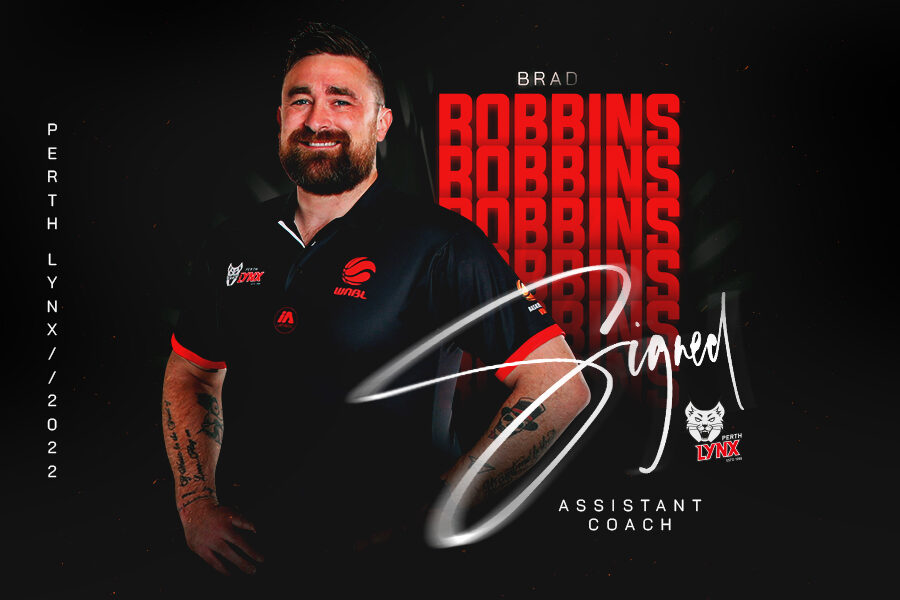 September 16, 2022 | Perth Lynx news
The Perth Lynx are excited to announce the signing of Brad Robbins to the role of Assistant Coach for a second WNBL season.
In his first season as an Assistant Coach, he worked alongside Head Coach Ryan Petrik and travelled with the team to regional Victoria, where they were based for most of the 2021/22 season.
No stranger to adversity in his career, his experience was invaluable to the group, who were away from home for over 7 weeks. Uncertainty around fixtures and the unknown of when they could return to WA with covid border closures made his first season in the WNBL an unforgettable one.
Reflecting on a remarkable season, Brad said "What did I learn from last season? I want to coach, and I want to be a part of the coaching staff that helps this group be the best version of themselves they can be, whatever that looks like. Being away from home for nearly 7 weeks last season, only strengthened my desire to be a part of this club. I love the group we are bringing in and cannot wait to get started building on what we achieved last year."
Heading into year two, Brad also acknowledged Head Coach Ryan Petrik saying, "In the last 2 years, in particular, Ryan has proven that he is one of the top tier coaches in this league and has changed the way I view the game. I've never seen another coach understand the x's and o's as he does and I'm very grateful to be able to grow under his guidance."
Head Coach Ryan Petrik is excited to have Bobby back saying, "He's won NBL championships as a player, he's captained the most successful NBL club in the country, and he's got experience on the coaching side of things as well. To have someone who's been on both sides of the lines was huge for our program last season, and our program will be infinitely better for having him involved again in the 22/23 season."
ENDS
For more information:
Rob Clement
Perth Lynx CEO
E: rob.clement@basketballwa.asn.au