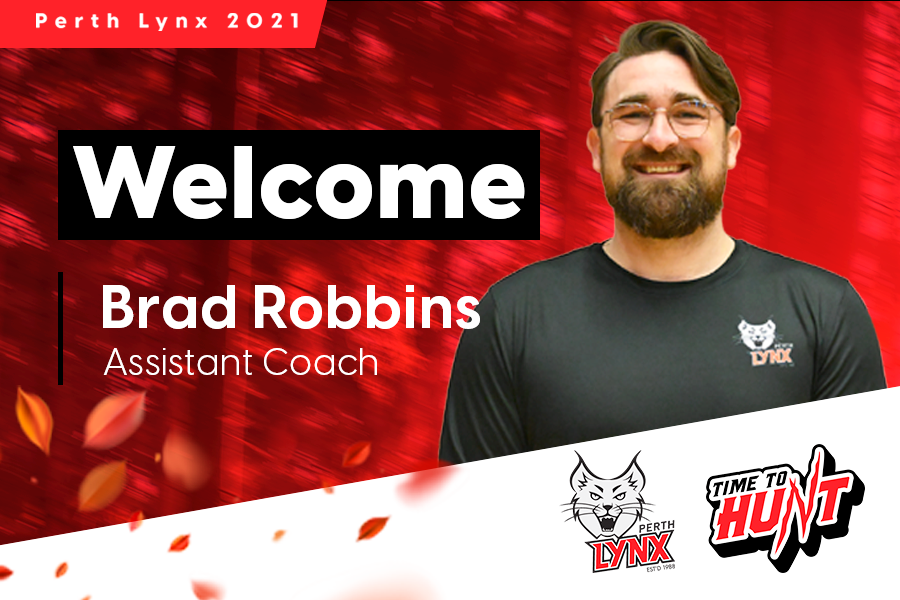 July 8, 2021 | Perth Lynx news
The Perth Lynx are excited to announce the signing of Brad Robbins to the role of Assistant Coach for the upcoming WNBL 2021/22 Season.
Robbins is no stranger to the Perth basketball community, a member of the Perth Wildcats Championship winning team in 2010; he then co-captained the team for the 2010/11 season, leading them from the front to another playoff appearance.
He played 215 NBL games and had a reputation for bringing a level of aggression to the court. Not quite the 'angry ant' now, Robbins coaching career began in 2017 when he was appointed assistant coach for the Joondalup Wolves Women's team. He continued in the role in 2018 and had the responsibility as head coach for a large chunk of the season, with coach Craig Friday unavailable due to his duties with the national wheelchair team.
Perth Lynx General Manager Brent Dawkins said "We are excited to be able to bring Brad into this seasons Lynx program and draw on his years of basketball experience both on and off the court"
Head Coach Ryan Petrik acknowledged the importance of the Assistant role and wanted to make sure he had the right person to fit in with the culture created at the Perth Lynx organisation.
"I was always blown away with how good he was with Joondalup in 2017-18 and how their Women's players would rave about him. Then I got to work with him in 2019, and I've never seen any player or coach command as much respect as he did. When he wanted to talk, you could hear a pin drop. The players hung on every bit of advice he ever gave them"
"He's a natural leader, his basketball IQ is off the charts, and our senior players that already know about the signing cannot wait to start working with him."
Currently working in the mental health sector alongside former teammate Greg Hire for his charity A Stitch In Time, a new challenge in the basketball world was too good an opportunity to pass up. Speaking about his decision to jump back into coaching, Robbins said, "I am and always will be a competitor. When I spoke to Ryan about what he has planned for this season and where he sees me fitting into that system, I was pumped to join."
"The roster the Perth Lynx Management team have put together already is elite, and I am excited to get to work."
8th July 2021
END
For more information:
Brent Dawkins
Perth Lynx General Manager
brent.dawkins@basketballwa.asn.au