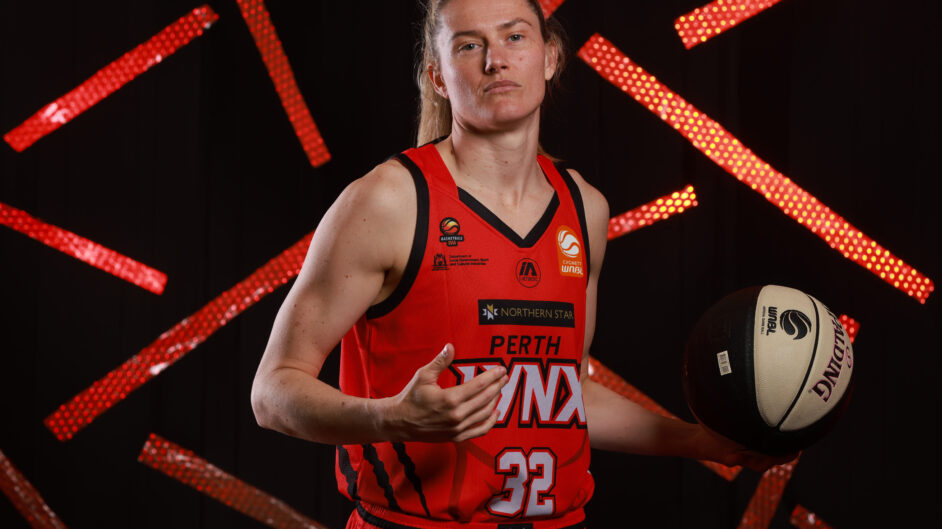 October 13, 2022 | Perth Lynx news
Feature Writer: Chris Pike
Perth Lynx superstar Sami Whitcomb can't wait to be part of a 'normal' WNBL season coming up and playing in front of the Perth public once again on the back of playing such a key role in Australia winning bronze at the FIBA World Cup in Sydney.
Whitcomb now proudly calls Perth home along with wife Kate and their son Nash, which is why she is so excited that the upcoming 2022/23 WNBL season will allow the Lynx to play a full home and away season, where they will become acclimatised to playing at Bendat Basketball Centre once again.
The season gets underway on Wednesday November 2 against the Melbourne Boomers on their home floor. Whitcomb can't wait to be there for that, but right now she's trying to recharge her batteries.
It's been quite the hectic time for Whitcomb who was part of the Lynx team that made the Grand Final last WNBL season before she reached the playoffs in the WNBA with the New York Liberty, and then was part of the World Cup for the Opals in Sydney.
Time To Recharge
She was the starting point guard and main playmaker on that team that ended up winning bronze in what was the end of quite the hectic period for Whitcomb. She's now taking a bit of time to recharge before getting stuck into preparation for the season with the Lynx.
"I'm probably still coming down from all the worlds stuff but it's been really nice to be back home," Whitcomb said.
"We are actually going over to Bali this week to have a little bit of vacation time there which will be really nice. Then I'm really excited to come back just for a normal home and away WNBL season.
"I enjoyed playing WNBL again last year but it was just different to what the experience will be this season so I'm excited for that. I like our group and it will just be nice and get to play in Australia again, and especially here in Perth."
Whitcomb hasn't had a great deal of a chance to fully reflect on the whole experience of what she was part of in Sydney at the World Cup where she  won bronze along with her Opals teammates.
However, while in Bali as she regroups a little and gears up for the WNBL season to come she intends to do a bit of reflecting while recharging her batteries after being non-stop on the go since the start of the last WNBL season.
"I definitely intend to do a bit more of reflecting in Bali while I have that time to relax a little bit. But my immediate reflections just from coming home and being away from it was just how incredible and special it was to be part of it," Whitcomb said.
What the Bronze Means
"I got to share all of that with my family and even just close family and friends who were able to come. I really loved that group we had too and that's one of the things I've thought about the most being away from them is what a special bond we had.
"We ended up spending about 30 days together in total so that was a lot, but it was a really enjoyable group and people keep asking me how I'm feeling and you come away something like that which you've been working on for so long feeling like you were part of something special.
"Obviously you always want gold, but to medal was our ultimate goal so to come away from that and having accomplished that is a really fantastic feeling. There's also that feeling about what's next now and you feel like you need to move on to something straight away.
"It's about finding that balance of feeling that it was incredible what we were able to do and now reset and have another goal on the horizon. But for the moment I'm still in that period of thinking I can't believe we did and being so proud and relieved that we did. It was really fantastic that we were able to do it in front of so many people."
The Opals as a whole did a terrific job of shaking off the disappointment of losing their semi-final to China to miss out on the chance to play for gold to refocus on their bronze medal match up with Canada.
Then to have Lauren Jackson deliver the type of statement performance that makes her Australia's greatest ever basketball player is something that Whitcomb will forever be able to hold as one of the greatest moments in her own career for so many reasons.
"That throughout the whole tournament was really special but we couldn't have scripted that any better," Whitcomb said.
"For it to have come down to the most important game in the end with a medal on the line and for LJ to step up in such a big way, and at the end of such a long week when everyone is drained to be able to look fresh and to play so well and to be able to give us more than she probably even thought she could was just amazing.
"It was her just being LJ and putting mind over matter, and deciding we weren't going to lose and given everything she's achieved, she wasn't afraid of that moment. It was really special for all of us to get to play with that version of LJ where she dominated a game like she did for so many years.
"That was us getting to play with that version of LJ like a lot of her teammates during her career got to do when they relied on her and were in awe of her. We really got to experience what it was like to just give the ball LJ and let her go to work.
"That's what is so special about being on a team with someone like her who is such a superstar and for us to get that moment."
WNBA 2022
Speaking of that WNBA season at the Liberty, it was a bit of a frustrating time for Whitcomb where she ended up averaging 6.7 points a game while only just an average of 21.3 minutes.
Even though she was part of a team that reached the playoffs before losing to the Chicago Sky, it was a season that didn't leave her feeling too full of confidence heading into preparations with the Opals for the World Cup.
"I don't think I had a very good WNBA season to be honest and that was probably something that was hanging over me coming into worlds," she said.
"It's something I struggled with a little bit just in terms of going through a season where I didn't play as much or as well, and my role was up and throughout the season. Sometimes I was playing the two or sometimes the one, but not really, and then I came into the worlds to play the starting one spot.
"That was something I really had to mentally prepare myself for and have the confidence I could still be a solid player for this group I didn't want to let down.
"That's been a bit of a hard one for me obviously because I thought my season before in the WNBA was really good and probably the best everything had been for me. I didn't feel the same coming out of this WNBA season but I think that also made me cherish and appreciate the worlds experience and campaign even more."
Lynx 2022/23
She doesn't expect to quite have the same dominant play running role at the Lynx as she'll get to share the duties with Robbi Ryan and Tayah Burrows, but either way she's looking forward to whatever role she does take on.
"I definitely think we'll rotate plenty and I don't mind having the ball in my hands obviously, it's great and I think ultimately it ends up in my hands even if I'm in the two spot but it's just about the work load of bringing it up the whole game and dealing with the pressure the teams put on me," Whitcomb said.
"Teams might not think I'm a strong ball handler or a natural one so they do try and make it more difficult for me up the court, and there's the added pressure of play calling and doing the facilitating of getting everyone else involved and feeling good while having to still be a scoring threat too.
"I definitely think there'll be much more of a balance with the Lynx than there probably was at the worlds."
Whitcomb can't wait to reconnect with Lynx coach and reigning WNBL Coach of the Year Ryan Petrik to play under him for a second straight season in the league, but their history obviously dates back much further than that.
They won SBL (now NBL1 West) championships together at the Rockingham Flames and Whitcomb couldn't be happier at the prospect of working with him once again now that he's also a Men's NBL1 West championship winning coach having also taken the Flames to the National Championship.
"I definitely am happy to remind him of where he came from and who he is, but seriously he's been great and honestly that's why he has been able to have the success that he has," Whitcomb said.
"Even though he does win and have success, he gives a lot of credit to his players and team because ultimately they are the ones who have to execute everything. He does continue to develop and tries to learn what's right now in all forms of basketball and what's the latest expectations offensively and what's working defensively that might be new or modern.
"Obviously it's always changing and credit to him for picking a team and then picking an offence and defence to suit. He doesn't stick to the one plan and hope it works no matter the players, he has a style to suit his team and I think that's why he's had so much success wherever he's coached.
"From what I've seen with this team I really like what we are going to be running and I think it will suit this group. There'll be some continuity from last year, but also some different things more tailored for this group where we don't have Marina and Jackie.
"It will be a little different but still with some similar things and hopefully it's something that makes all of us feel good and comfortable out there."
Finally at Home
With the Lynx having just played a handful of games at Bendat Basketball Centre at the end of last season on the back of being based in Ballarat, and then having been in the North Queensland hub the season before, the homecoming is something Whitcomb can't wait for.
Getting to play a full season of home games in front of the Lynx fans is one of the biggest things Whitcomb is excited for in this upcoming WNBL campaign.
"I love playing in Perth and I love playing at Bendat. It is really nice to have those experiences as well and we got used to playing in Ballarat, but it's not the same as playing at home," Whitcomb said.
"That will be really great for us and special for us this season, and in particular Perth does a really good job of engaging with our fans and the young kids coming through.
"I look forward to all of that and hopefully we can have a bit of a competitive advantage when people come over instead of making that shorter trip to play us in Ballarat. I think it will just feel different and like a normal season again which will be really nice."