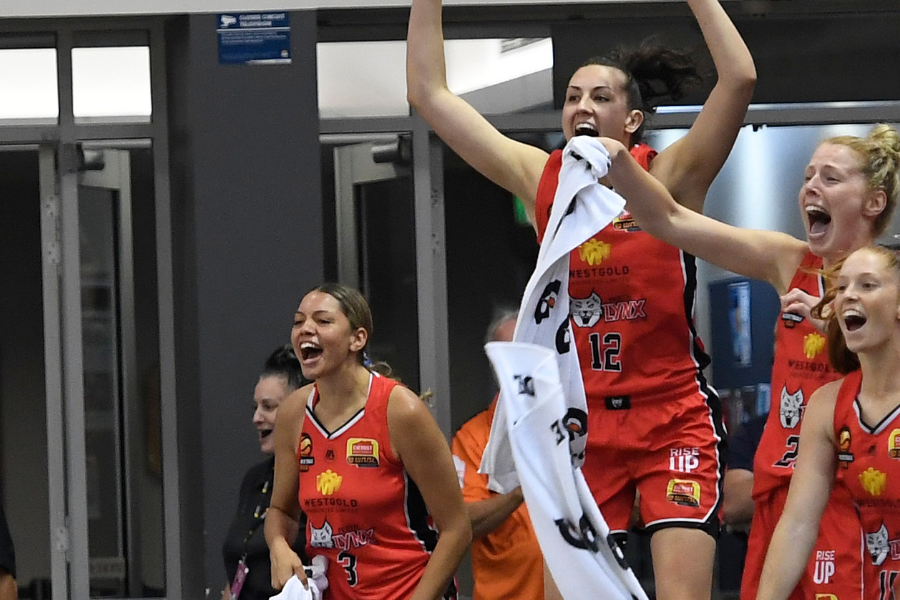 December 7, 2020 | Perth Lynx news
Darcee Garbin might not have been grabbing the headlines so far this Chemist Warehouse WNBL season, but she did on Sunday night on her old home floor in Townsville nailing a stunning game-winner for the Perth Lynx over Adelaide Lightning.
With time running out, Katie Ebzery produced her 10th assist of the night for the Lynx to find Garbin who drained the go-ahead three-pointer with ice in her veins to give Perth the 80-78 lead, which would remain the final score.
She hit the dagger at Townsville Stadium, a place she called home during her stint at the Fire that included two WNBL championships, but the Lightning still had a chance to snatch it.
With 2.5 seconds on the clock and coming out of the timeout, Adelaide had one last chance and actually made a good play with Steph Talbot making a drive to the basket and scoring. The only problem was her shot was after the buzzer and Perth won its third straight game.
It will be a night for Garbin to savour, though, in an all-round performance that rams home just how good she has been as a leader on this Lynx team all season.
She has every right to be in MVP discussion and to have gone up in Opals calculations, and that was emphasised with what she did on Sunday night compiling 31 points and 11 rebounds while going 6/7 from beyond the arc.
"I'm just glad that shot went in, talk about throwing up a prayer," Garbin said.
"These Townsville rims were friendly to me tonight and I'm just happy it went in because I missed a few bunnies around the rim in that fourth quarter. I'm happy to come away with the win and for that shot to go in."
Alex Ciabattoni ran the Lynx brilliantly too for 15 points, seven rebounds and three assists with Ebzery delivering 12 points, 10 assists and six boards, and Kayla Steindl 11 points and 11 rebounds. Alex Sharp also had six points, seven rebounds and six assists.
It will be a tough loss to take for the Lightning who are now 4-5 and on a four-game slide despite the best efforts of Talbot who finished with 23 points, 13 rebounds and seven assists.
"I think we finally found the way we want to play a little bit more over the last couple of games, so to lose hurts a little bit more," Talbot said.
"We did make some strides forward and improvements as a team. We just want to now keep getting better every game and fix what we need to improve, and a lot of the girls are on two-year deals so we want to start building a better bond on and off the court."
Chelsea Brook also had 16 points and five rebounds while hitting 4/7 from deep with Marena Whittle contributing 11 points, Ally Wilson eight (seven rebounds) and Abi Wehrung eight (seven assists).
Adelaide landed the first blow before quarter-time with some strong and-one plays from Whittle and Talbot, and a buzzer-beating three from Taylor Ortlepp.
They then went up 12 to start the second when Whittle connected from downtown, but that signalled the Lynx to spark into action with their own 13-0 run.
Steindl then made it three three-pointers in as many minutes to put Perth on top which Garbin then made sure of further with her own personal run of eight points for a four-point half-time lead.
Garbin and Steindl had combined for 27 points and 6/9 three-point shooting for the half but it was 11 offensive rebounds to two really key for Perth's lead.
The Lynx's lead blew out to double-figures to start the second half but with Brook, Talbot, Ortlepp and Whittle all connecting from beyond the arc, Adelaide stayed in touch and then snatched a two-point lead.
The scoring dried up in the fourth quarter as tensions rose with the game on the line. It was destined to come down to the wire and it was only fitting the game ended with a Garbin triple, then with Talbot having a chance for the Lightning.
Chris Pike is a freelance contributor for WNBL.basketball
Perth Lynx – 80 (Garbin 31, Ciabattoni 15, Ebzery 12)
Adelaide Lightning – 78 (Talbot 23, Brook 16, Whittle 11)