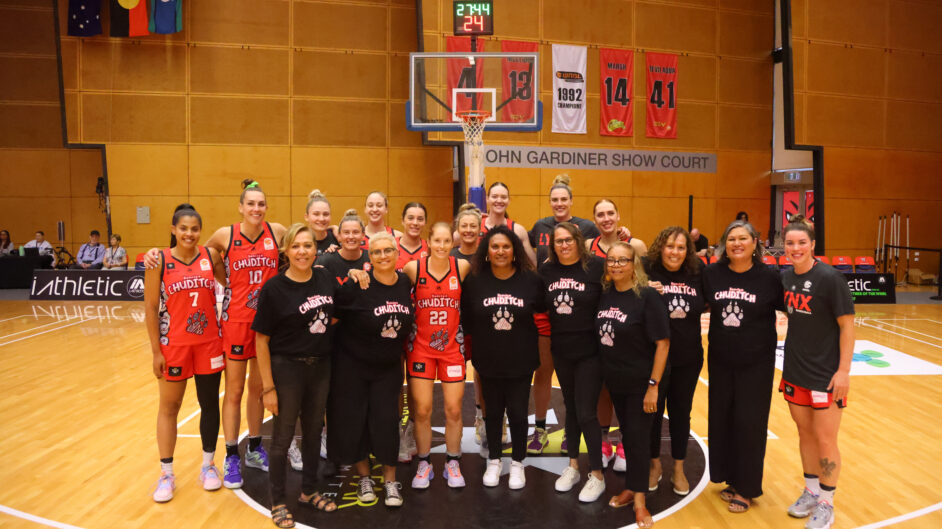 March 1, 2023 | Perth Lynx news
Some hard truths and a delayed video session sparked the Perth Lynx just how coach Ryan Petrik hoped for Saturday's crucial and empathic win over the Bendigo Spirit which he now hopes sets the benchmark for their performances moving forward.
Delicately poised coming into Spirit contest
The WNBL finals aspirations of the Lynx were delicately placed heading into the last home game of the regular season on Saturday night at Bendat Basketball Centre against the Spirit.
It was Bendigo still clinging to fourth position just ahead of Perth with both teams firmly in the knowledge that the result of the contest in the second last round of the season would go a long way to determining who would play finals, and who wouldn't.
Just to add to the intrigue and the Lynx were fresh off a disappointing last up loss in Melbourne to the Southside Flyers and had lost three of their past four matches overall on the back of a seven-game winning streak.
The stakes couldn't have been higher coming into the game but what the Lynx delivered could well have been their most complete performance of the WNBL season.
Terrific all-round Lynx performance
It was a terrific all-round showing at both ends of the floor with the Lynx putting up 99 points with the main seven players used by coach Petrik all contributing strongly and scoring at least eight points.
As a team, the Lynx shot 48.6 per cent from the field and made 12/30 from three-point range and 19/23 from the foul line while scoring 17 points from the Bendigo turnovers and limiting the Spirit to 78 points on 41.3 per cent shooting overall.
It was the exact of response coach Petrik was hoping for and he made sure that the performance against the Flyers was fresh in their mind coming into the clash on Saturday night with so much at stake.
"The Southside game was not good and Southside were elite, and that was as good a first quarter as I reckon I've seen in my eight years but equally I don't think if we could have played any worse or tried any less," Petrik said.
"So we deliberately saved that film for Thursday and we wanted to show them as close to this game as possible hoping we had enough adults in the room to get a response. The response was elite because that Southside game was not good and the video was not fun to watch.
"Some home truths were spoken about. It's 2023 and I would have loved to have been an AFL coach from the 1990s and just ripped some shreds, but you have to pick your moments in 2023 unfortunately. But we gave them as good as we could in this age and their response was fantastic."
Bouncing back from Flyers loss was the focus
Going back 20 or 30 years and Petrik might have delivered an old-fashioned spray to tear the paint off the walls to the Lynx players coming off the loss to the Flyers, but in this modern age he had to do things a little less brutal albeit with every bit just as much force behind it.
Clearly he got his point across and the players came out motivated to respond strongly, and as a result have taken a significant step towards booking in a place in the WNBL finals.
"Everyone talks about why do coaches get so grumpy and why are we all miserable pricks, and there's a reason because when we apply ourselves we're really bloody good," Petrik said.
"We just don't always apply ourselves. I think we find offence fairly easy, touchwood, and we've recruited a lot of scorers. We think offence is hard to teach but we think you can teach defence.
"We think we can turn a four into a seven defensively but I don't think you can do that on the offensive end of the court. So we've naturally recruited a lot of offensive first players but that means we have to try down the other end of the court.
"We're going to score enough to give us something to defend. So their application in this game, the tagging of the roll, bringing Scherfy a little bit higher, the super helper concept, the blue, the jump switches, all of it was on point. So many times it was phenomenal."
The scenario going into last round for Lynx
What the result means for the Lynx is that it's going to take something remarkable in the last round of the regular season for them to now not maintain a finals position.
The first domino that needs to fall is the Bendigo Spirit playing the Townsville Fire on Wednesday night. Should Townsville beat Bendigo, then the equation is nice and simple, and the Lynx are guaranteed of a finals position.
Should the Spirit manage to beat the Fire, things get a little more interesting and the Lynx will need to win one of their two matches on the road either against the Adelaide Lightning on Thursday or the UC Capitals on Saturday.
Because of that, Petrik wasn't yet ready to celebrate after Saturday night's win.
"We're only halfway there still and we could party all night after this if we want, but we could still miss out depending on what happens next week so we'll enjoy this without getting too carried away," he said.
"You enjoy a win like this but we will get straight back to work and we still want to play well in the last round and have work to do.
"We made this bed unfortunately by losing the Townsville games and losing other games we could have gotten, so we just want to keep winning the rest of the way no matter what it means."
Impressive performance offensively, defensively
What was most impressive about the performance on Saturday night from the Lynx was that it was a strong showing on both ends of the floor, with defence and offence equally as impressive.
That hasn't always been the case this season but Petrik feels hammering home how poor they were against Southside might have helped them now set a new benchmark for themselves.
"We always think that we can launch 30 threes and we generally argue that 90 per cent plus of them are virtually wide open, or at least open so we should be making one in two with the shooters we've gone and recruited," Petrik said.
"We're not asking a bunch of non-shooters to make open shots, we're asking a bunch of elite shooters to make open threes. Amy Atwell, when she's on she is death and she killed it in this game.
"It's high risk, high reward and clearly we would have showed them film when we got back together on Tuesday. Deliberately holding it and making them go back to watch it, and cut their own clips as well, we clipped every single player.
"We did tell them before we started film that if you're going to get upset easily then just don't come in because this was going to be brutal. We hit them as hard as they could and their response in this game was phenomenal. But that's now the bar, they've shown us what they can do and they have to do it constantly."
What to expect in the final round
The Lynx will know more about what is at stake for them in the two road games in Adelaide and Canberra this week in the last round of the regular season once the result on Wednesday night between Bendigo and Townsville is known.
However, either way Petrik wants his team to be heading into the finals with form and momentum should they guarantee that position.
"We need to be in form if we are going into the finals," Petrik said.
"You don't want to start jumping forward so maybe if we are through there might be some man management to worry about, and if we're not through we might need to go hard with the shorter rotation.
"First and foremost, we've got to get in and then we'll worry about the load management which we think we've done a pretty good job at all year. We've rotated really hard outside of this game but the other part is the belief.
"We won seven in-a-row and then we lost two to Townsville and they were just better than us. Then we lay an egg at Southside so getting some belief back is critical."