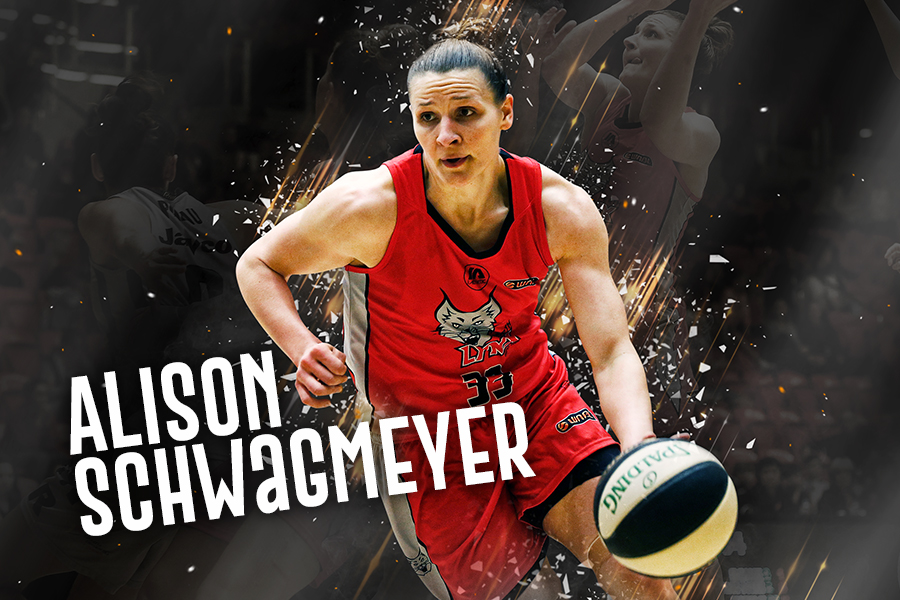 June 14, 2018 | Perth Lynx news
The Perth Lynx have received an injection of energy and intensity ahead of the 2018/19 WNBL season with the signing of fan-favourite guard, Alison Schwagmeyer.
Originally from Illinois, Schwagmeyer was a member of the 2017/18 Perth Lynx squad, and received the club's Coaches' Award for her relentless work ethic and attitude throughout the year.
She made her WNBL debut as an injury replacement in October 2017, starting against the Dandenong Rangers in a victory that helped to kick start the team's season.
However, complications with her permanent residency ensured Schwagmeyer could not take the court for the remainder of the season.
Having received her residency in February, the tireless wing was cleared to join the Perth Lynx as an unrestricted player.
"There were a lot of challenges," said the 27-year-old.
"I knew in the end whatever was meant to be will be, so I just tried to trust the process and be positive.
"My first year in Perth, I saw a WNBL game and said 'this is the league that I want to play in'.
"To be signing a full time contract with the Lynx means so much to me."
The 177cm guard began her professional career in Europe, before a move to Perth that saw her become a dominant figure in the State Basketball League.
She joins the Lynx as the reigning back-to-back SBL Most Valuable Player, having twice been named to the SBL All-Star Five and once in the SBL All-Defensive Five.
Schwagmeyer currently averages 22.7 points, 7.3 rebounds and 4.3 assists per game in the SBL, and aims to set the standard for work rate ahead of the WNBL season.
"I hope to bring leadership on and off the court, and to play and act in a way that would inspire anyone who sees me."
Lynx head coach Andy Stewart praised Schwagmeyer's intensity, and highlighted a unique challenge presented by the newest signing.
 "One of the main challenges with Swags is our ability as coaches to hold her back, because she just wants to train flat out all the time.
"She's aggressive, she's instant offense, and she has earned this right to be a WNBL player."
Schwagmeyer joins Asia Taylor, Lauren Mansfield and Maddie Allen, plus returning teammates Toni Farnworth and Kayla Standish, on the 2018/19 Perth Lynx roster.