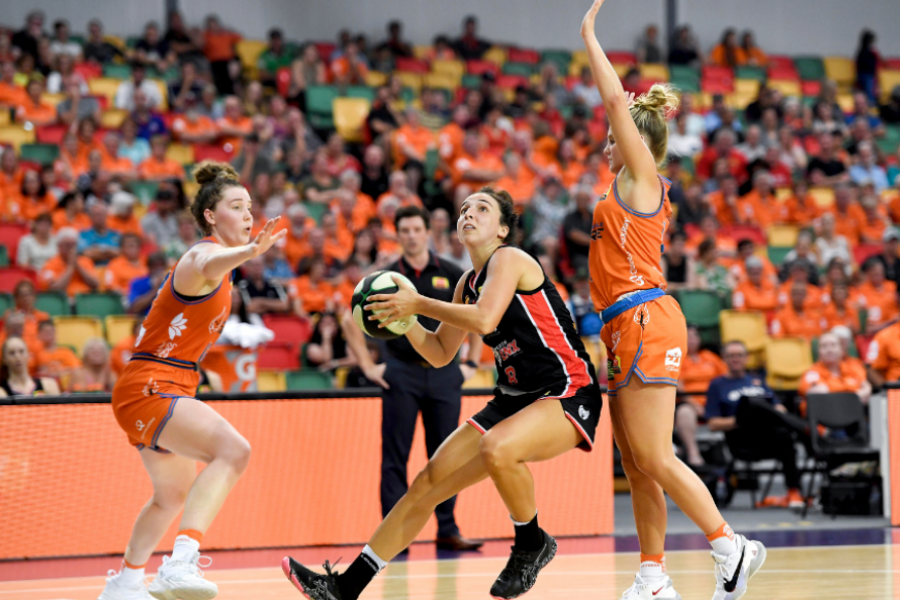 December 6, 2020 | Perth Lynx news
A final quarter blitz from Darcee Garbin helped propel Perth Lynx to the Chemist Warehouse WNBL upset of the season tonight, and stalled JCU Townsville Fire's charge to the finals
The 84-75 loss to the Lynx leaves fourth-placed Townsville on 6-4, two wins ahead of Adelaide Lighting In fifth.
Fire coach Shannon Seebohm has labelled all of his clubs last three matches as must win, with each of those fixtures against other top five teams.
Improving Perth (3-7) notched back-to-back wins for the first time this season and moved up a spot to sixth.
The Lynx led for much of the game at Townsville Stadium, after trailing early.
They held a ten-point advantage going into the final quarter which is when Chemist Warehouse Opals big Garbin stepped up.
Garbin missed her first seven three-point shots, but in the final quarter she torched Townsville from both inside and outside.
She scored her side's first 12 points of the period, following up three close range buckets with a couple of long bombs.
Seven unanswered points gave Perth a 79-62 commanding lead commanding with just under four minutes to go,
Townsville made one last run, scoring the next nine to get the deficit back to eight, but missed two more shots before Perth scored again.
Garbin finished with 21 points, 12 rebounds and four assists.
Perth's other big gun, guard Katie Ebzery, was also hugely influential, contributing 21 points, nine boards and four dimes.
Alex Ciabattoni provided plenty of offensive spark for Perth, scoring 13 of her 18 points before halftime and Alex Sharp tallied 12 points and seven rebounds.
"Having a young team, new coaches, no one has played together before it was always going to take us a while to get going, so a hub season wasn't probably ideal for our team," Ciabattoni said.
"But I definitely think the pieces are starting to fall into place and we are playing together way better."
Townsville guard Lauren Nicholson continued her fantastic campaign, scoring a match-high 28 and shooting at 55 per cent from the field.
However, she lacked offensive support with Zitina Aokuso and Shyla Heal equal second highest for the Fire on 11 points
Outstanding young point guard Heal racked up four fouls by the halfway point of the third quarter and played just under 22 minutes.
"Tonight, we were just lacking a little bit of the sparkle we've probably had in some of the other games and it came back to bite us on the butt," Seebohm said.
"We struggled, credit to their defence they really took us out of our rhythm, and we didn't play with enough discipline."
Fire went into the game without forward Megan McKay, who had an ankle niggle, but she is expected to face UC Capitals at Townsville Stadium on Sunday.
Perth face Adelaide also in Townsville on the same day.
Adrian Warren is a freelance contributor to WNBL.basketball
Perth Lightning 84  (Garbin 21, Ebzery 21,  Ciabattoni 18)
JCU Townsville Fire 75 (Nicholson 28, Heal 11, Aokuso 11)