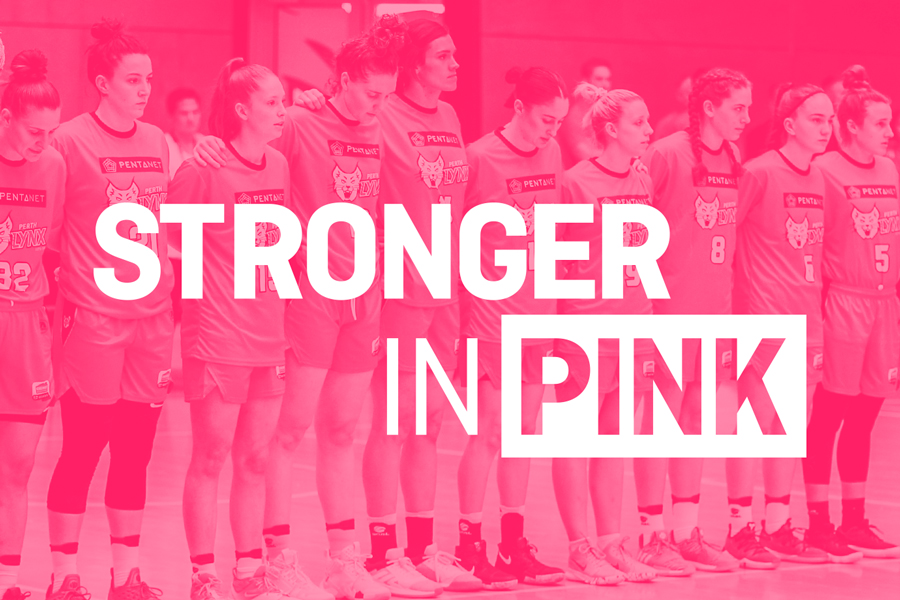 October 21, 2019 | Perth Lynx news
The Perth Lynx and Perth Wildcats are both turning pink this week for their home games, raising awareness and funds for WA charity, Breast Cancer Care WA.
The Wildcats take on South East Melbourne Phoenix on Friday at RAC Arena, and the Lynx match up against the Adelaide Lightning on Saturday at the Bendat Basketball Centre.
Both team's will be switching their trademark red uniforms for bright pink ones for the occasion.
The game balls and nets will also feature a splash of pink.
All game-worn jerseys will be auctioned off to raise funds for Breast Cancer Care, as well as the game balls, team-signed jerseys, coaches polos and more.
Special Wildcats & Lynx Stronger In Pink merchandise is also available in the lead-up to the games as well as at the venues.
Net proceeds from all merchandise sales go to the charity.
This year, fans will also be able to make $5 donations to Breast Cancer Care WA, simply by texting the word PINK to 1998 8228.*
The Perth Wildcats & Perth Lynx are encouraging fans to also swap their red gear for pink to get into the spirit of the occasion, with a team-signed Stronger In Pink basketball being awarded to the best-dressed on the night.
Both team's games will take on a special pink theme for the occasion, so keep an eye out for special one-off changes at the two venues!
Perth Wildcats tickets are available here.
You can get your Perth Lynx tickets here  (Use the discount code BCCWA for $15 adult tickets and $8 child tickets)
About Breast Cancer Care WA
Breast Cancer Care WA (formerly Breast Cancer Foundation of WA) has been providing personalised emotional, practical and financial support and care to people affected by breast cancer since 2000.
Receiving no government funding, Breast Cancer Care WA relies on the generosity of the WA community in order to provide its range of services at no charge.
We are staffed by a team of professional women from various backgrounds, who share a common passion for making a difference in the Western Australian community.
*Charge: $5 per SMS (donation to Breast Cancer Care WA).
Ansible Pty Ltd Helpline 1800 783 035. Donation open to all residents of Australia. Available on eligible plans and services only. Currently not available on Optus – Optus customers can donate at breastcancer.org.au. Persons under 18 years of age must have a parent or guardian permission to donate. See breastcancer.org.au for more information.