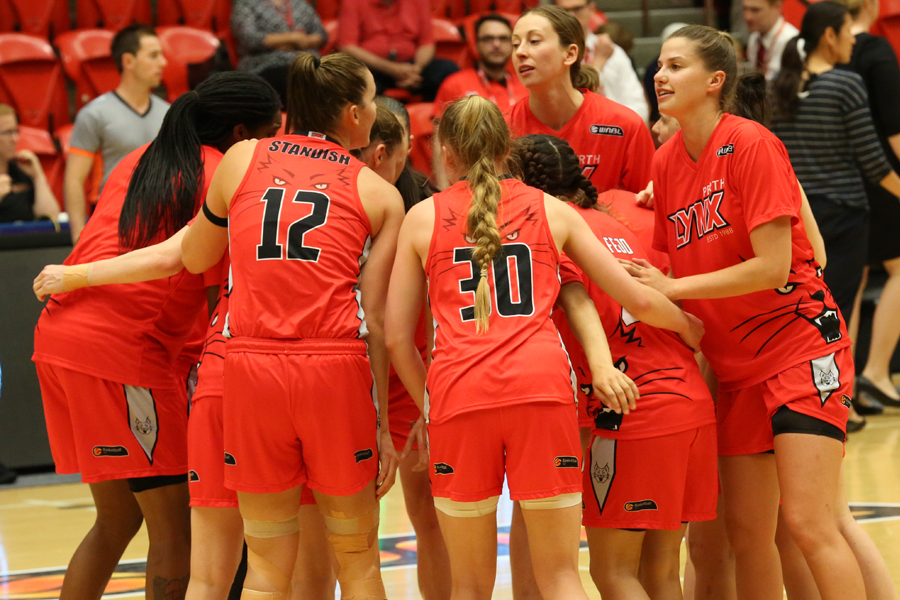 November 30, 2017 | Perth Lynx news
The Perth Lynx have pulled off an incredible second half comeback to defeat the University of Canberra Capitals, 89-76.
After trailing by as many as 16 points just before half time, the Lynx flipped the game on its head, outscoring the Capitals 50-25 after the main break.
A 21-0 run clinched the victory for Perth, who continued their hot streak claiming an eighth win in a row.
"I love coaching this team, I really do," said head coach Andy Stewart.
"It's a fun group, it's special."
Sami Whitcomb's first half brilliance kept the Lynx alive in the contest, as the co-captain scored 17 of her side's 39 opening half points.
From there, it was Courtney Williams' second half that stole the show, with the superstar tallying 25 points (including a stretch of 13 consecutive points), 11 rebounds, four assists and three steals to secure an inspiring victory for her side.
"Sam was keeping us in it, fighting, relentless – she would not let us settle down and accept mediocrity."
"Then to have someone like Courtney walk out there, to walk on the floor and go 'game over', it's really special."
Kayla Standish (14 points, two blocks) was a huge factor in Perth's turnaround, while the consistent defensive energy of Alex Ciabattoni and Olivia Thompson helped set the tone for the comeback.
With the victory, Perth now hold a 9-4 record, and sit one game clear atop the WNBL ladder.
"I don't know that we're worried about being the top team, but we are worried about playing good basketball."
"We're starting to play a whole lot better sort of basketball."
The Lynx next head to Adelaide looking for a crucial victory against an in form Lightning squad.
Perth Lynx 89 – (Williams 25, Whitcomb 22, Standish 14)
UC Capitals 76 – (Hooper 20, Wehrung 13, Scherf 8)