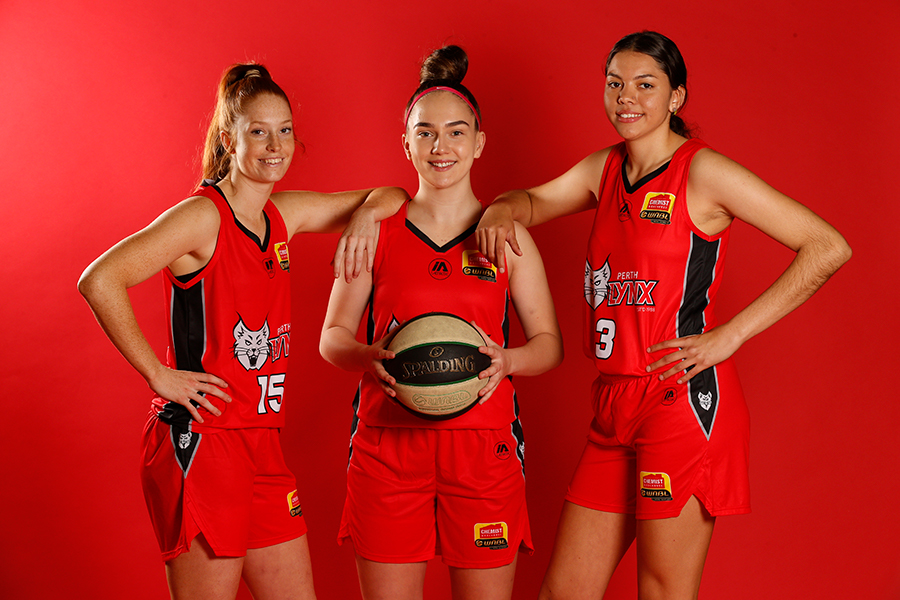 September 9, 2019 | Perth Lynx news
The Perth Lynx have completed its 2019/20 playing roster, signing local trio Nes'eya Williams, Tayah Burrows and Jewel Williams.
The teenagers have been a part of the Lynx pathway academy for two years, training with the club in 2017 and becoming development players in 2018.
Head coach Andy Stewart told The Sunday Times it's been impossible to ignore their improvement.
"There are a lot of different pathways to the top level of sport, but for them to be a part of our academy, become development players, and then get full contracts, it shows what we are doing is working," he said.
"Tayah is relentless and hard-nosed, Nes'eya is athletic, long and smooth, Jewel is highly skilled. It's really exciting.
Tayah Burrows is a Bunbury product, but played for the Rockingham Flames in the recent SBL season and became a championship player.
She averaged 5.8 points, 3.2 rebounds and 2.5 assists per game.
Nes'eya Williams was born in Albany but grew up in Perth and plays for the Perth Redbacks in the state league, averaging 13.6 points, 7.0 rebounds and 2.3 assists per game.
Jewel Williams, from Bullsbrook, plays for the Kalamunda Eastern Suns. She was named an SBL All-Star in 2019, averaging 14.2 points, 3.2 rebounds and 2.4 assists per game throughout the season.
Stewart believes the three young players paving the way for more WA talent to make it to the national level.
"This is only the first stage of a long journey, now they have the chance to re-assess their goals an think big."
Burrows, WIlliams and Williams join WNBA players Ariel Atkins and Imani McGee-Stafford, Aussie Opals Katie Ebzery and Lauren Mansfield, new recruits Nadeen Payne and Marena Whittle as well as returning Lynx players Ali Schwagmeyer-Belger and Maddie Allen on the Perth Lynx 2019/20 playing roster.
The season begins on Sunday 13 October.
Memberships are available from $10.90 per game.
Image: Tayah Burrows, Jewel Williams, Nes'eya Williams