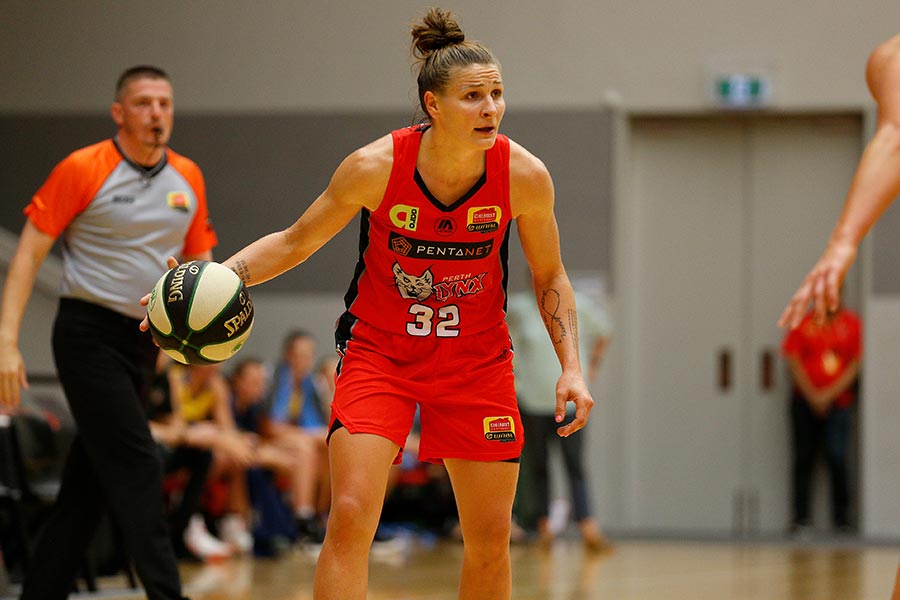 November 22, 2019 | Perth Lynx news
The Perth Lynx have defeated he Sydney Uni Flames 91-82 in Sydney on the back of another huge performance from Alison Schwagmeyer-Belger.
The result makes it back-to-back wins for the Lynx and it improves their season record to three and four.
It was their first win away from Perth of 2019/20.
Schwagmeyer-Belger amassed 25 points and 10 rebounds in her third double-double of the season, while Katie Ebzery continues to be aggressive on offensive, racking up 20.
Maddie Allen was again dominant inside, finishing with 12 points to go with six rebounds and two blocks, while Marena Whittle came away with three steals and two blocks on the defensive end.
Ariel Atkins had 12 points, four assists, five rebounds and two steals.
After a slow start that saw them trailing by as much as eight points in the first quarter, the Lynx rallied to tie the game up by quarter time.
A hot shooting run in the second saw them gain a lead they would never give up.
At halftime, the Lynx were shooting over 60 per cent from beyond the arc.
The visitors maintained their advantage in the second half through defensive pressure, causing 16 turnovers and coming away with 10 steals.
Perth scored 17 points off Sydney turnovers.
The Perth Lynx now face the Canberra Capitals on Sunday.
Tip-off is at 2pm WA time on Fox Sports.
Perth Lynx 91 (Schwagmeyer-Belger 25, Ebzery 20, Atkins 12)
Sydney Uni Flames 82 (Wilson 16, Planeta 16, Scherf 14)