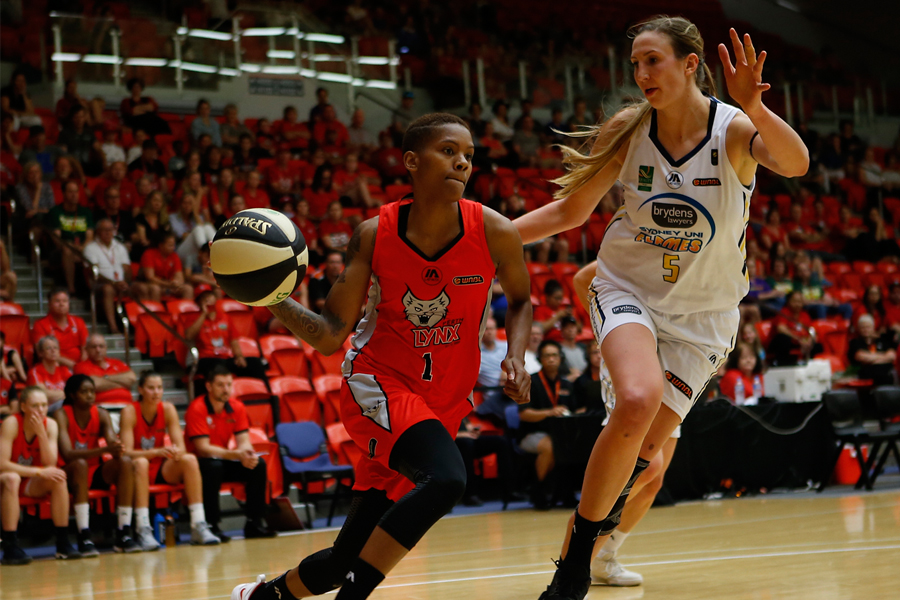 November 19, 2017 | Perth Lynx news
The Perth Lynx have surged into the top four with their fifth consecutive victory, defeating the Sydney Uni Flames, 83-71.
After a back-and-forth first half, the Lynx pulled away from Sydney, and held the lead with stifling defence and some timely baskets.
"We had to keep fighting, we couldn't get out and run."
"When we increased out defensive intensity, they missed a couple, we got some boards and got some run in our game – we look so much better."
"We were tough, we played better grind defence."
Courtney Williams came just shy of an incredible triple-double, tallying 26 points, 10 rebounds, seven assists, three steals with no turnovers.
Alex Ciabattoni again proved a vital spark off the bench, hitting three of her five attempts from deep, while Alice Kunek tallied 14 points and five boards.
The Lynx held Sydney to just 29 second half points, and again found room on the glass, tallying 17 offensive boards.
It's been a stunning turnaround since the team's 0-3 start to the season, winning six of their last seven including a streak of five games at home.
"We're not playing to our potential yet, I honestly believe that."
"We're playing tough, and we're playing which is great, but we're waiting for that boom."
"The potential that we have when we can pick up that tempo just a little bit more, we can be even better."
The Perth Lynx now head to Dandenong to take on the Rangers, before a date with the Townsville Fire at the WNBL Cluster Round.
Perth Lynx 83 – (Williams 26, Kunek 14, Ciabattoni 13)
Sydney Uni Flames 71 – (Taylor 31, Boag 18, Hamson 10)