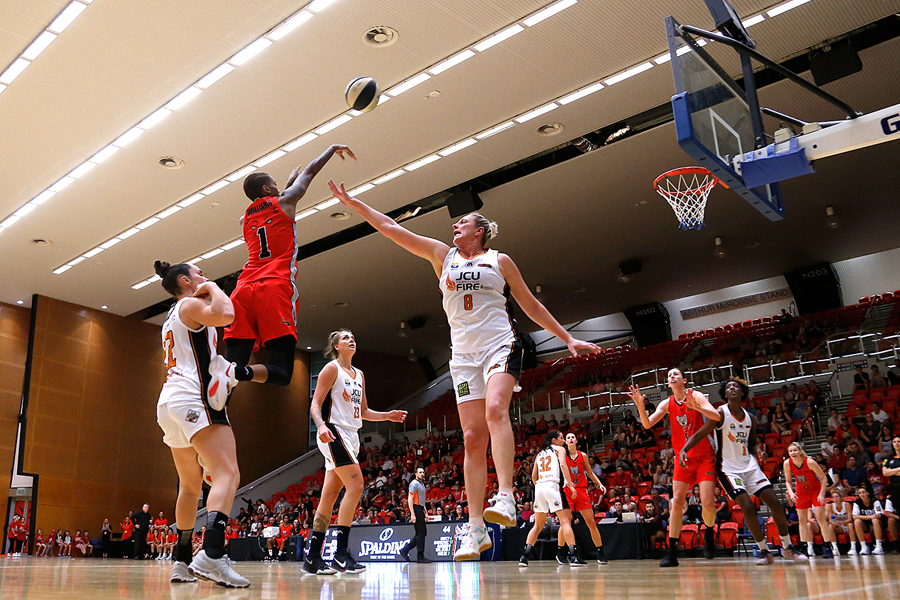 November 2, 2017 | Perth Lynx news
The Perth Lynx have continued their remarkable turnaround in form, after storming to an impressive victory over the Townsville Fire, 87-68.
Natalie Burton scored Perth's opening basket on their first possession of the game, and the Lynx never looked back, leading for nearly 39 of 40 minutes while never trailing in the contest.
Alice Kunek was phenomenal again, scoring 25 points including five three-pointers, while Courtney Williams caught fire in her return to action, tallying 16 points, seven rebounds, four assists, three steals and an enormous chase-down block.
"That was the product of an enormous amount of hard work and sacrifice," said Lynx head coach Andy Stewart after his side's big win.
"The girls are doing what we're asking; on the floor, off the floor, they're committed to everything and everyone is buying in."
"You can see they're adopting the game style, the commitment is there, the atmosphere is there."
Perth lead by as much as 26 points midway through the second quarter, and held off a furious third-quarter run from the visitors to secure their third consecutive home victory.
"We know they're going to make a run, but our game style is 'do you have the legs to finish it off?'."
"We don't believe that if we go at this tempo, and we get a lead, that teams can run us down."
Lynx captain Sami Whitcomb (18 points) continued to set the tone for the home side, with her final stat-line not doing justice to the consistent effort and energy provided by the WNBL scoring champion.
"Sami, just then, said 'This is so much fun, and this could be special'."
"It feels like everybody, the whole 15 in the squad, has adopted what we're doing and is committed."
After starting the season 0-3, the Perth Lynx have now won three of their last four games, and have burst their way up the WNBL ladder.
The Perth Lynx now have the opportunity to utilize the longest break of their season, with eight days between tonight's victory and their next game – a home clash with the Canberra Capitals on Saturday 11 November.
Perth Lynx 87 – (Kunek 25, Whitcomb 18, Williams 16)
Townsville Fire 68 – (Batkovic 24, George 11, Mincy 8)