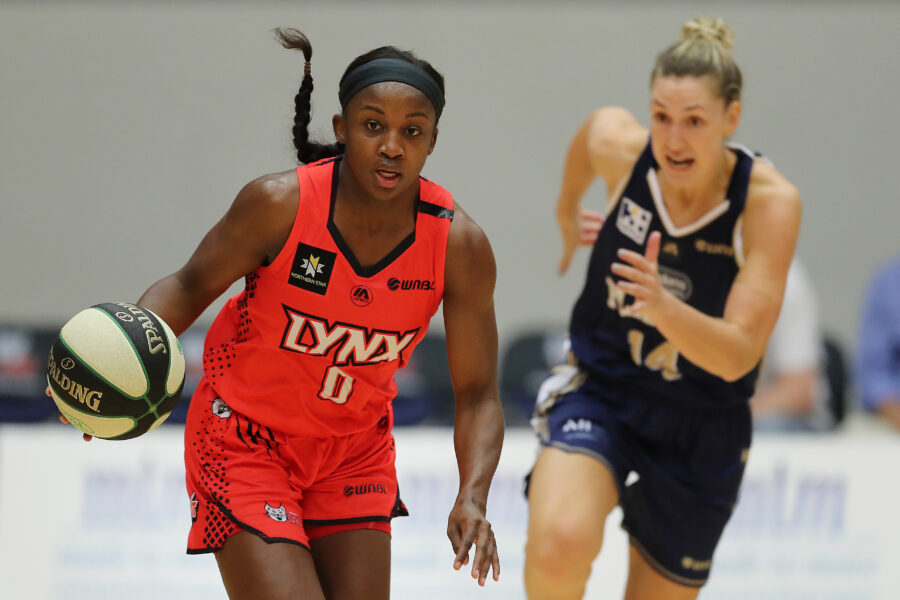 March 6, 2022 | Perth Lynx news
The Perth Lynx have fallen just short of what would have been a dramatic comeback victory on their return home, but the good news is there's three more chances over the next week at Bendat Basketball Centre.
The Sydney Uni Flames came to Bendat Basketball Centre on Saturday night and took away the 66-63 victory despite a furious fourth quarter fightback from the Lynx after the home team fell 12 points behind by three quarter-time.
It was a first game for the Lynx in the WNBL at Bendat Basketball Centre in 776 days but both teams were well short of being full strength for the Saturday night contest.
The Lynx were missing key starters Lauren Scherf and Marina Mabrey with the Flames missing Shyla Heal, Funda Nakkasoglu and Lauren Mansfield, but there were still stars out there to have big games on either side.
It was Jackie Young who embraced her first chance to play a home game with the Lynx, with the point guard delivering 28 points, six rebounds, four steals and two assists.
Keely Froling also came up huge for the Flames, though, with 30 points, 21 rebounds and two steals.
Sami Whitcomb also had 14 points, six steals, five rebounds and five assists for Perth, Ash Isenbarger five points and four rebounds, Alex Ciabattoni four points and six rebounds, Alex Sharp three points and six boards, Mackenzie Clinch Hoycard three points, Tayah Burrows two points and two rebounds, and Darcee Garbin two points, 10 rebounds, three steals and two assists.
Jackie Young and Sami Whitcomb combined for Perth's first two baskets back on their home floor for the first time in more than two years.
Young continued to feel good in her first ever game at Bendat Basketball Centre with another mid-range jumper and then converting a three-point play to put the Lynx up 9-6.
Young hit again in the mid-range and then knocked down a three-pointer for the 14-10 edge for the Lynx, but with Keely Froling on fire, the Flames finished the first quarter the better to lead 21-16 by quarter-time.
The Lynx would have been disappointed with how they closed the first period, but quickly made up for that starting the second with the opening 12 points and holding Sydney scoreless for four minutes.
Young and Whitcomb combined for all those 12 points for the Lynx and suddenly they had turned a five-point deficit into a seven-point lead to threaten to blow the game open.
It wouldn't quite happen, though, and with Froling delivering 17 points and 13 rebounds in the half, the Flames got back into the game but the Lynx led 37-36 at the half following a late three from Mackenzie Clinch Hoycard.
Whitcomb then scored to open the second half to extend the Perth lead, but Sydney weren't going away and were soon back in front until a three-point play from Ash Isenbarger.
However, it was the Flames' turn to then threaten to break the game wide open as they closed the third quarter with 13 of the last 15 points to lead 60-48 by three quarter-time.
Perth needed to respond quickly in the fourth quarter and they did exactly that with Young hitting three quick baskets to bring the margin to six before Flames coach Shane Heal called a timeout.
He got the response he was after too with his team coming out to score the next four points to get back out to a double-figure lead, but the Lynx kept coming and Alex Ciabattoni and Young soon had it back to a six-point game.
The game then got dramatic with turnovers, offensive rebounds and missed layups galore, but the Lynx were still in the contest and back within five when Ciabattoni scored with two minutes to go.
Whitcomb then brought the margin to three with 1:24 on the clock after helping to force a steal.
The Flames were up 66-63 and that's how the final score would look with neither team able to score again including two looks at the three from Whitcomb with time expiring.
The Lynx will be back at Bendat Basketball Centre on Monday night to play host to the Adelaide Lightning before then also taking them on at home on Wednesday night.
This run of home matches will then end on Saturday night against the University of Canberra Capitals.
WNBL ROUND 13
PERTH LYNX 63 (Young 28, Whitcomb 14, Isenbarger 5)
SYDNEY UNI FLAMES 66 (Froling 30, Purcell 10, Deeble 8, Evans 8)