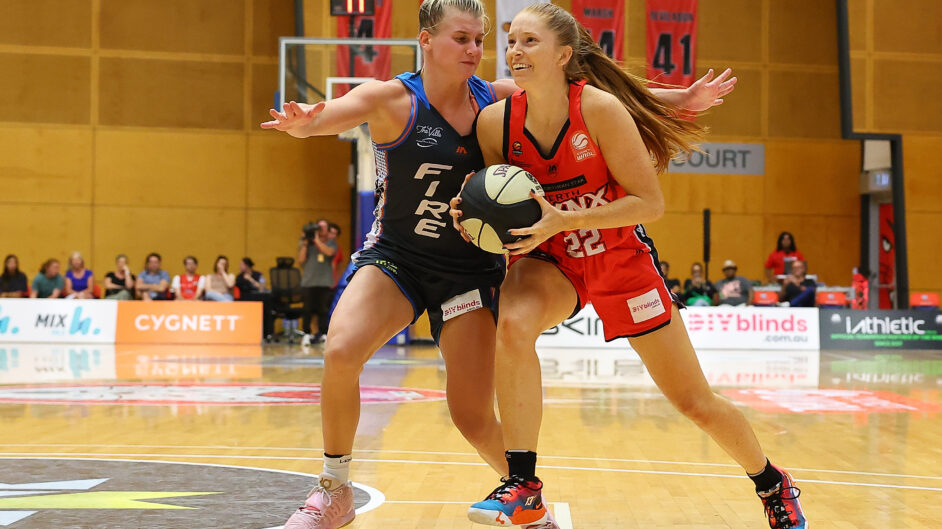 February 3, 2023 | Perth Lynx news
There was a unique build up to Wednesday's return home for the Perth Lynx against the Townsville Fire, and while disappointed in the way a seven-game winning streak ended, coach Ryan Petrik knows his team has to turn their focus bouncing back quickly.
The Lynx returned home to Bendat Basketball Centre on Wednesday night to play host to the Fire having won seven straight matches to be knocking on the door of breaking into the WNBL top four.
However, having lost five of the first seven matches this season, they did need to keep winning to try to force their way into a finals position and that's especially against one of the teams they hope to replace in the Fire.
A lot of the attention coming into the game was the sudden and shock move of Opals guard Shyla Heal making the move from the Sydney Flames to join Townsville for the rest of the season with her immediately into the Fire line-up for these two games in Perth this week.
No excuse for disappointing first half
Suddenly that became the talk of the basketball world combined with her father Shane's mysterious departure as coach of the Flames. While Petrik implored his players to ignore everything happening surrounding Townsville, he's sure it had some impact.
While frustrated by the whole situation with a playoff spot on the line, Petrik doesn't feel it fully excuses a first half performance that he couldn't hide his disappointment about.
"This might not give Townsville the credit that they deserve, but jesus, I don't know what the gear is before first but we might have been in reverse in that first quarter, and first half. That was bad," Petrik said.
"I wouldn't have thought it was complacency because we obviously knew what was on the line. How much the Townsville mind games and trickery that they played the last two days came into it, I would hope none.
"We just told our team to stay out of it, but it's human nature and it's naturally all the girls wanted to talk about. If Townsville want to play that way, then that's cool but it's hard to know how much of an impact it had on our players."
Frustrating first half but response led by the bench
There was a patch in the first quarter where Townsville did get on a roll and Karlie Samuelson scored 14 of their first 16 points, but the Lynx did hang in there to only trail by a point at quarter-time.
However, then in the second quarter the Fire went on a 23-2 run to break the game wide open and to open up a 22-point lead.
Petrik was at least encouraged by how the Lynx responded with a 12-6 run to close the half when he went to the bench and Emma Gandini, Tayah Burrows and Mackenzie Clinch Hoycard in particular providing a spark.
The Lynx then scored 13 straight points either side of three quarter-time but couldn't quite complete the job with the Fire taking charge once more with Heal a focal point on that to end up winning 91-81.
"The season was on the line, this game too and we just lost the season split. Even if we do win now on Saturday, this game was important regardless," Petrik said.
"Saturday now clearly is very important, but the next game is always the most important and that's what we've said from the start.
"For whatever reason, in this game and credit to Townsville who played hard, but geez, we were at 10 per cent and you saw it. We subbed and put most of our bench in for that final minute and-a-half in the second quarter, and we immediately exploded because we tried."
Effort levels have to improve
Petrik found himself using his time outs in the first half just asking his team to lift their efforts level. He didn't expect to be having to do that with a finals spot there still for the taking, but he hopes they learn some tough lessons from that opening half on Wednesday night.
"We know what we knew before this game started and that's pretty much that if we don't try we will be pretty bad," he said.
"Sometimes basketball's fairly simple and it comes down to if you can make shots and if you can actually try. For a lot of the first half but the second quarter particularly, we just flat out didn't look like we tried.
"Townsville played hard and for everything going on in that locker room, they played really hard. In both timeouts, I just asked us to please try. You shouldn't need to do that in a professional level with the salaries that are getting paid. You shouldn't be asking them to try."
Events going on at Townsville
As for the drama surrounding Heal joining Townsville and everything else happening with the Fire, Petrik isn't sure how good for the league it is.
"It's not just Shyla playing, but also the mind games Townsville were playing all week moving (Lauren) Nicholson on the roster and (Steph) Reid out the day before, and then on game day Reid in and Nicholson. It was just under-12s stuff.
"We're meant to be a professional league. Then obviously the Shyla stuff, if it's legal then it's legal, that's fine. I wouldn't have though it passes the pub test though. This is meant to be one of the best leagues in the world and I'm not sure the average fan love what's happened."
Focusing on Saturday night's rematch
Petrik wasn't sure why his team delivered such a disappointing first half on Wednesday night, but he's expecting a significant lift on Saturday in a rematch with Townsville in a game they can't afford to drop to stay in the playoff hunt.
"We have played five games in 14 days so we won't overact to this physically before Saturday, but we will club them with film," Petrik said.
"We won't hurt their legs, or maybe we do need to hurt their legs after that. They need to be accountable for how hard they tried in that first half because that wasn't WNBL standard, which we've used a few times this season unfortunately, that phrase."