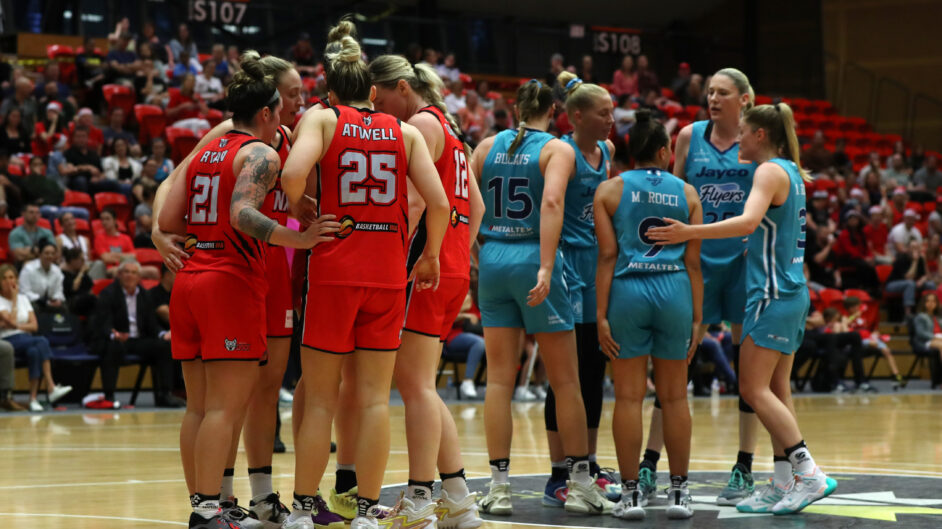 January 12, 2023 | Perth Lynx news
Written by: Chris Pike
Not only are the Perth Lynx looking forward to Friday night's battle with Lauren Jackson and the Southside Flyers, but they are setting their sights on a win to strengthen their push for a WNBL finals berth.
Following Saturday night's 75-64 win also at Bendat Basketball Centre against the Sydney Flames, the Lynx improved to a 5-5 record on the season with 11 games remaining as they chase that playoff berth.
Playoff scenario for Lynx
The Townsville Fire currently sit fourth at 6-4 so it's a tight race over that final playoff position with Lynx coach Ryan Petrik fully aware for his team to break in, they need to start getting some wins over the teams above.
So far this season, the Lynx have beaten the Sydney Flames and UC Capitals twice along with a win against the Adelaide Lightning.
They are the three teams below them right now but wins against the Melbourne Boomers, Bendigo Spirit, Southside Flyers and Townsville Fire have been elusive.
Turning attention to LJ and the Flyers
That makes Friday night's home clash with the Flyers even more crucial with it being the Lynx's last game at Bendat Basketball Centre in January ahead of road games to Sydney, Bendigo and Melbourne.
The Flyers did beat the Lynx last time in Perth 83-74 but that was a Perth team missing captain Sami Whitcomb.
However, it's a significant challenge for the Lynx against the Flyers team fresh off beating the Boomers by 18 points and the Spirit by 46 last week to improve to 9-3 on the season in second position.
It's always a significant occasion to have Jackson coming to play in your building and Petrik knows his team will look forward to sharing a court with her, but after that win over the Flames last week, he's hoping they can cause the upset on Friday.
"They all look forward to it. They all want to play Jackson and Jackson's so good, but we just wanted to get through this game without Bibby. That was really testing," Petrik said.
"We feel like we need to get 12 wins and that should guarantee you finals, 11 would go close. So if you keep beating the bottom four teams that's only nine wins so we need to find two or three against the top four. Southside now this week seems like the most logical one to try and get right now."
Getting Bibby back
Petrik did his best to hide how he was feeling last week leading into the clash at home with the Flames, but when he found out he would be without star forward Chloe Bibby he couldn't help but be nervous.
After all, Bibby has been putting up 18.4 points and 5.0 rebounds a game this season in her first time at the Lynx before testing positive to COVID on Thursday.
All things going well, she should be right to return on Friday night against the Flyers much to Petrik's relief.
"She woke up Thursday morning not feeling right, then during film we found out she wouldn't be here today because she was unwell. Then by the time we got on court, half an hour later she tested positive," Petrik said.
"I was petrified thinking about this game without Bibby. You never want to show that to the players, but she's been our most consistent player.
"Scherfy might have been our best but Chloe Bibby has been almost a solid 20 and 10 every night. She can shoot the lights out too so when you go 2/17 in the first quarter, geez we could have taken some Bibby shooting. Eventually we got going though."
Look back to win over Sydney
Going back to Saturday night's game against Sydney and the Lynx could hardly have put together a worse first quarter.
By quarter-time, they had just seven points on the board as a team on the back of shooting 2/17 from the field, 1/9 from three-point land and coughing up seven turnovers for a 10-point deficit.
However, in direct contrast the Lynx delivered their best quarter of the season in the second piling on 32 points while shooting 11/15 overall, 5/7 from beyond the arc and Lauren Scherf was remarkable in that scoring 22 points.
That set up the eventual 75-64 win for the Lynx and Petrik was delighted with the way they shook off that rough start.
"We just needed to tweak how we wanted to play, but it wasn't an overhaul. That style we play is going to leak oil at some point, but when it gets going it really gets going," he said.
"So in the first quarter, we couldn't have run anything worse and then in the second quarter we go 11/15 and we're hitting everything. You've got to persist and it goes back to the card count at the blackjack table.
"You're going to get some bad hands and that happened in that first quarter for us. But eventually the hands came in the way wanted to in that second quarter."
After Scherf went for 22 points in the second quarter, the Flames obviously turned their attention to her defensively in the second. While she still finished the game with a supremely impressive 33 points, 14 rebounds and four assists, just as encouraging in the second half was the others who stepped up.
Without Bibby in the line-up, Sami Whitcomb had 18 points, seven rebounds and five assists, Amy Atwell 11 points, seven boards, three assists and three steals, and Alex Sharp seven points, nine rebounds and three blocked shots.
Petrik is more than happy for teams to turn their focus to Scherf to allow others to step up.
"They obviously junked some things up and made it awkward for us, and we knew they would go after trying to get Scherf out of the game and that would open up the three-point line for everyone else," Petrik said.
"It's almost like if you kill one part of our offence another part opens up.
"Ultimately if you are going to junk it up against us and go full court man and slice in some random zones, then we can deliver random Atwell corner threes, random Sharpy threes and then they have to think about who to guard.
"We just stayed with the system and we had too many shooting that would eventually start to fall."