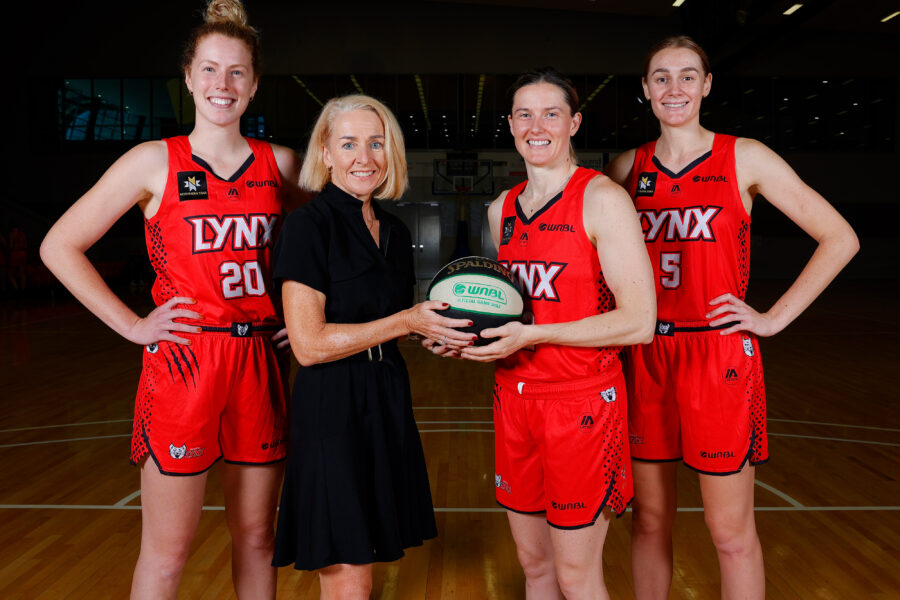 February 25, 2022 | Perth Lynx news
Perth Lynx and Northern Star Resources Limited (Northern Star) have today announced a new five-year Major Partnership agreement through to the end of the 2025/26 WNBL season.
As Major Partner of the Perth Lynx, the Northern Star brand will feature prominently on the Perth Lynx playing uniform and at home games throughout the season. The new agreement will also see Northern Star become a Community Partner of Basketball WA (BWA). This new community partnership will support BWA's regional development programs in Kalgoorlie and surrounding regions, focusing on increasing participation and the education and development of players, coaches, and referees.
Basketball WA Chief Executive Officer Rob Clement said, "Northern Star Resources' support of Perth Lynx and Basketball WA will help increase the accessibility of the great game of basketball in our regional communities and for women and girls to thrive".
"We are excited to work with Northern Star Resources to promote the game to young girls ensuring there is a pathway for them to achieve their goals and aspirations."
"This partnership is a commitment to support women's sport and the heart ground of community sport in the regional areas, particularly the goldfields."
"We thank Northern Star Resources for their support and vision for the community, and we look forward to working with them to achieve our joint objectives."
Northern Star Managing Director and CEO Stuart Tonkin welcomed the new partnership with Perth Lynx and Basketball WA. "Northern Star is privileged to be supporting our home team, Perth Lynx, who represent our state so proudly in the Women's National Basketball League".
"We are also pleased that our partnership extends to support further the community in which we operate, through the delivery of basketball and educational programs in the Kalgoorlie region".
"This initiative aligns with Northern Star's commitment to supporting the UN Sustainable Development Goals, and in particular Goal 5: Gender Equality."
"We wish Perth Lynx coach Ryan Petrik and the team the very best this season, and we look forward to supporting the team when they return for their first home games in almost two years".
Perth Lynx have been stationed in Ballarat since the commencement of the WNBL season and have recently returned to Perth for a series of home games at the Bendat Basketball Centre from the 5th – 12th of March.
ENDS
ABOUT PERTH LYNX AND BASKETBALL WA
The Perth Lynx is Western Australia's premier women's basketball team, participating in the elite eight team competition, the Women's National Basketball League (WNBL).
Following a change in ownership in March 2020, the club's license was transferred back to Basketball Western Australia, which continues to build the elite women's program and entrench the Lynx into the state's community basketball fabric, ensuring its long-term success. Basketball WA has a collective purpose to continue to grow and develop the game in all forms, so as to provide the highest possible positive impact on the lives and health of Western Australians.  BWA are committed to enabling more people to play everywhere … from shooting hoops on the street to the Olympics.
ABOUT NORTHERN STAR RESOURCES LIMITED
Northern Star is a global-scale Australian gold producer with world class projects located in highly prospective and low sovereign risk regions of Australia and North America. The Company has a portfolio of high-quality, high-margin underground and open pit gold mines, and is firmly focused on delivering superior shareholder returns. Northern Star is listed on the Australian Securities Exchange (ASX: NST). Northern Star continues to invest in building its asset base through strategic acquisitions and aggressive exploration to extend the mine lives across its world class operations.
ABOUT PLAYBOOKX
Playbookx Is a leading sponsorship and sports marketing agency, working with brands and rights holders to make sponsorships work.  The agency delivers strategy and accountability for partnerships, strategic advice, leverage and activation, media and content, and negotiation of commercial deals for sport, culture, cause and entertainment.  Playbookx has its head office in Perth and was founded by CEO Scott Gooch, a leader in the Australian sports industry with 25 years of experience working with brands, media, teams, stadia and athletes.