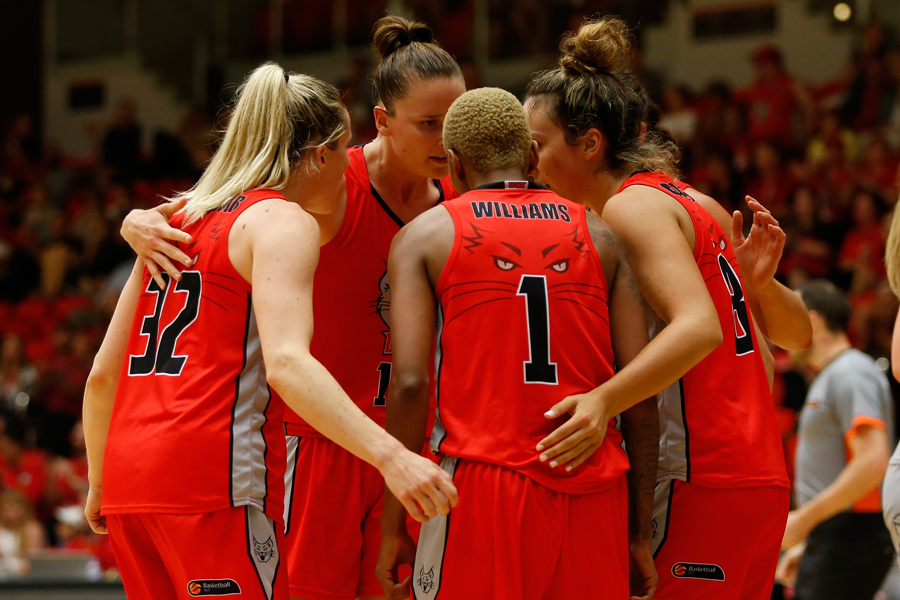 December 9, 2017 | Perth Lynx news
The Perth Lynx have claimed a club record eleventh consecutive victory, defeating the Sydney Uni Flames in a thriller, 84-79.
After storming home to earn their tenth win on Thursday, the Lynx travelled to New South Wales to face the reigning WNBL Champions, and dispatched the Flames in a classic contest to notch the historic mark.
The club's previous record of 10 straight wins had only been achieved twice before – once in 1992, ahead of Perth's lone WNBL Championship, and again in 1993 with a very similar core group.
The Lynx have delivered several dominant second-half performances during their win streak, but this time it was the Flames that came roaring back after the main break.
An early 16-point lead for Perth was slowly chipped into by the hosts, who managed to cut the margin to just one point in the final minutes.
However, a pair of threes from Sami Whitcomb in the dying moments sealed the historic victory for the Lynx, capping off a brilliant 23-point performance from the co-captain.
Alice Kunek also scored 23 points, while Courtney Williams tallied 18 points, seven rebounds and five steals.
The victory did more than just achieve club history, with the result also earning the Lynx the season series tiebreaker over Sydney Uni, 2-1.
After starting the season at 1-4, the Lynx have clawed their way to the top of the WNBL ladder with a league best 12-4 record.
The Perth Lynx now return home to take on the Adelaide Lightning on Friday 15 December at the Bendat Basketball Centre – tickets are on sale now.
Perth Lynx 84 – (Whitcomb 23, Kunek 23, Williams 18)
Sydney Uni Flames 79 – (Wilson 22, Snell 18, Hamson 11)