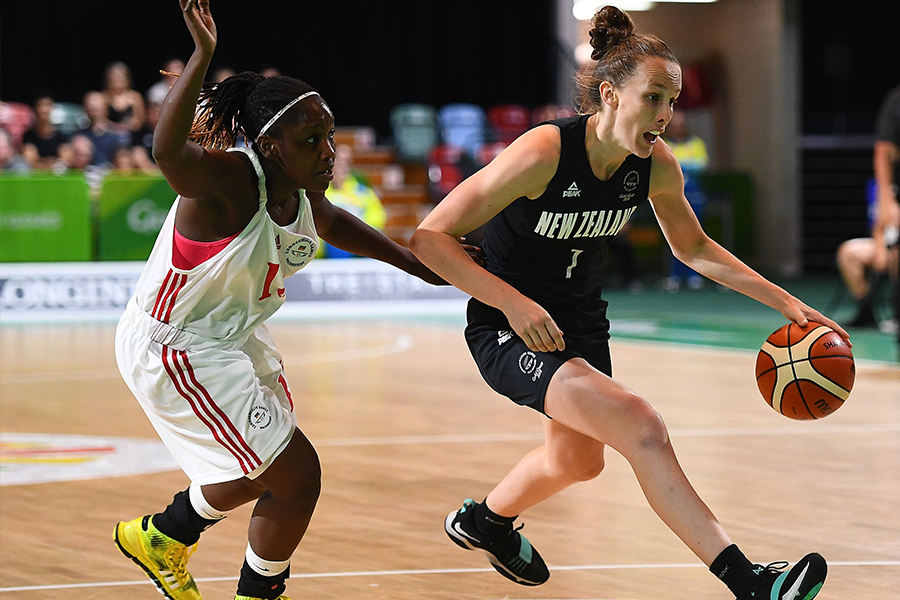 April 12, 2018 | Perth Lynx news
It was another big week of action for members of the 2017/18 Perth Lynx, with the Gold Coast Commonwealth Games taking centre stage.
Toni Farnworth and the New Zealand Tall Ferns went a perfect 3-0 in the Commonwealth Games group stage, advancing to a qualifying final against Mozambique.
Helped by nine points and seven rebounds from the Perth Lynx co-captain, the Tall Ferns claimed victory and a trip to the semi-final, where they will take on the Australian Opals tomorrow afternoon.
Alice Kunek and the Opals also enjoyed a perfect group stage, with the Australians boasting an average winning margin of 54 points through their first three games.
Closer to home, Alex Ciabattoni continued her fine SBL form, tallying 29 points, 10 rebounds, seven assists and five steals for the Kalamunda Eastern Suns.
Jennie Rintala made her season debut for the Suns, scoring 11 points, but it was Alison Schwagmeyer (20 points, eight rebounds, seven assists) and the Lakeside Lightning who claimed the victory.
Sami Whitcomb scored 21 points and notched 10 rebounds with the Willetton Tigers, while the South West Slammers enjoyed their first victory of the season, buoyed by 13 points and seven assists from Georgia Denehey.
Kayla Standish recorded a double-double (12 points, 11 rebounds), with teammate Mikayla Pirini adding nine points, as the Perth Redbacks defeated the Cockburn Cougars despite 12 points and eight rebounds from Izzy Miotti.
In the South Australian Premier League, Olivia Thompson scored 14 points and pulled down 23 rebounds, while Tahlia Fejo recorded three assists and two steals at the weekend.
Natalie Burton helped German team Herner TC to the semi-finals, scoring nine points and tallying 13 rebounds with four blocks.
Courtney Williams scored 20 points with five rebounds in Turkey, while Lauren Mansfield and Polish team Energa Torun were unfortunately defeated in a best of five quarter-finals series, ending their season.