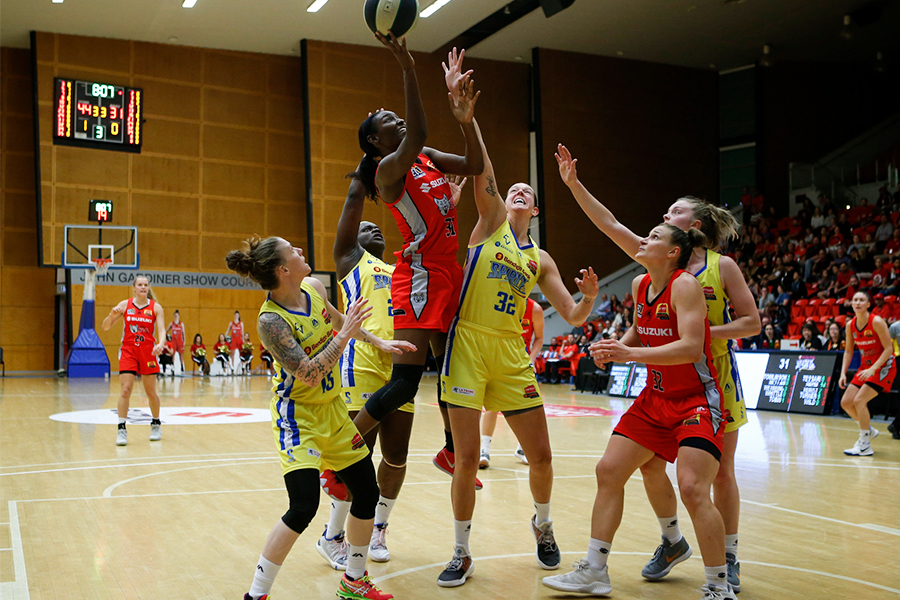 December 8, 2018 | Perth Lynx news
The Perth Lynx overcame a slow start to defeat the Bendigo Spirit on Friday night at Bendat Basketball Centre, 86-68.
Bendigo led Perth 19-11 at the end of the first, but with a 19 point quarter from Asia Taylor alone, the Lynx pulled in front to lead by 11 at half time.
Asia Taylor finished with 33 points, nine rebounds, two assists and five steals.
Andy Stewart said they discussed taking her out of the game to save her energy, but she was just playing too well.
"She got hot, and I hadn't seen her like this playing for us," he said.
The slow start was eventually fixed, but Stewart knows they can't allow teams to take off without them too frequently.
"I love the tempo, I love the style, we're just getting off to bad starts," he said.
"We've got to really sit down and look at it, because eventually the stress will get to us."
Brittany McPhee had a double-double with 20 points, 10 rebounds and 5 assists.
McPhee said the team didn't let Bendigo's game phase them, and just committed to what they know best.
"We were just trusting the game-plan, and things started to fall into place," she said.
"They got frustrated, we kept running on them and it worked out."
The Lynx turned the ball over only four times throughout the game, compared to 19 turnovers for Bendigo.
Stewart said their preparation during the week puts them in a good position to keep possession as much as possible.
"We train at a high intensity to apply good defensive pressure to ourselves, so we get used to playing relatively fast and look after the ball," he said.
"What we want to do is win the possession count, it's a combination of us not giving them the ball, us stealing the ball, or them turning it over."
"We feel like if we can win that, then we're good enough to win most basketball games."
The Lynx will now play again in Dandenong against the Rangers in less than 48 hours.
Tip-off is at 12:00 WST, and will be streamed live and free on the Fox Sports Australia stream.
Perth Lynx 86 (Taylor 33, McPhee 20, Ebzery 10)
Bendigo Spirit (Payne 27, Wehrung 16, Turner 9)