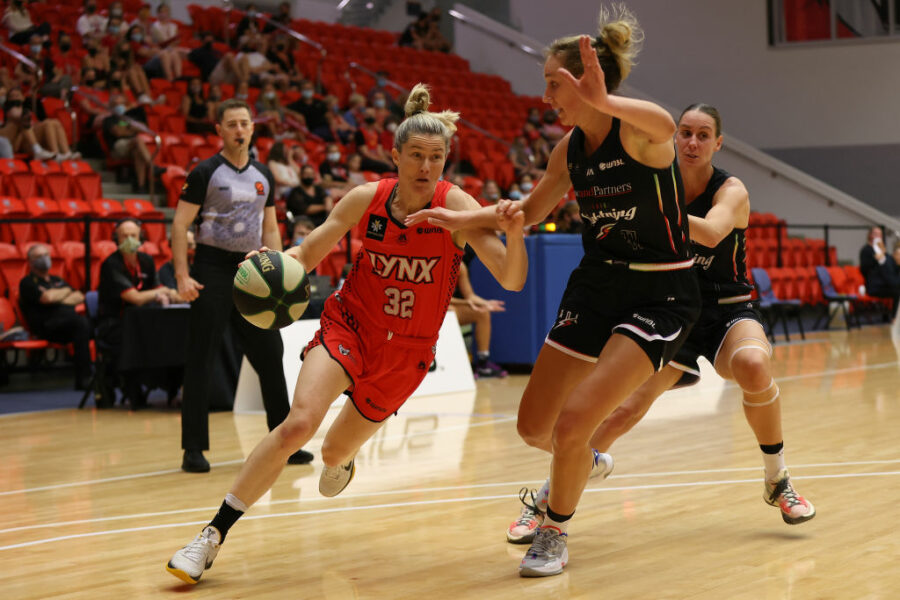 March 9, 2022 | Perth Lynx news
The Perth Lynx turned on some scintillating basketball to open the second half and then withstood the Adelaide Lightning comeback with the last 10 points for Wednesday night's 84-73 win at Bendat Basketball Centre.
The Lynx were fresh off Monday night's 104-79 victory also on their home floor against the Lightning on the back of a first up loss at Bendat Basketball Centre to the Sydney Uni Flames on Saturday night.
It was a bit of a slow start for the Lynx but Marina Mabrey provided a spark late in the first quarter as soon as she hit the floor on her return from injury and first home game.
Despite losing Jackie Young to a knee injury, the Lynx led by eight at half-time before blowing the game wide open with 10 straight points to start the second half.
The lead got out to as much as 18, but the Lightning kept fighting and closed to within a point with just over two minutes left. The Lynx responded in style to hit the game's last 10 points to claim the impressive 11-point win.
While there will be concern within the Lynx camp over Young's knee injury, her fellow guards Sami Whitcomb and Marina Mabrey came up huge.
Whitcomb delivered 18 points, six assists, five rebounds and three steals including going 4/11 from beyond the arc. Mabrey made her return from injury for her first ever game in Perth and despite playing less than 15 minutes, put up 17 points and went 3/6 from downtown.
Lauren Scherf put in a strong performance inside too with 16 points and nine rebounds with plenty of others contributing too with Ash Isenbarger finishing with seven points and five rebounds, and Young six points and an assist before her injury.
Captain Darcee Garbin finished with five points and eight rebounds, Alex Ciabattoni five points and eight assists, Alex Sharp four points, seven boards and four steals, and Emma Clarke two points.
Alanna Smith ended up top-scoring for Adelaide with 24 points and 17 rebounds in a huge performance while Steph Talbot added 15 points, seven rebounds and six assists, and Abbey Wehrung 13 points and five boards.
The Lightning came out motivated to bounce back from Monday night's loss with the opening four points of the game before the Lynx got on the board through a three-pointer from Lauren Scherf.
A mid-range bucket for Jackie Young and then triple from Sami Whitcomb then kept Perth close but Adelaide pulled away with the next six points to lead 15-8 leading to a Ryan Petrik timeout.
Marina Mabrey then hit the floor for the first time in a game at Bendat Basketball Centre in front of the Lynx faithful. She made an immediate impact, with a basket on her first possession.
She soon added a deep two and then back-to-back three-point bombs to keep the Lynx close cut the Adelaide lead to 24-22 by quarter-time.
Scherf then tied scores up to open the second period before Yong put the Lynx in front, and Emma Clarke extended it to two with a step back mid-range jump shot and Darcee Garbin pushed the lead to five with a three-pointer.
There was a scare for the Lynx with Young leaving the floor with a knee injury, but with Ash Isenbarger hitting from deep and Mabrey adding a spark, the home team was up 43-35 at the major break.
The Lynx then came out and blew the game wide open to start the second half, going on a run of scoring 10 straight points that included a pair of threes from a Whitcomb who was feeling it.
Perth's lead got out to 16 points and was soon 18 shortly after another run of six consecutive points. However, by three quarter-time the Lightning had got back within eight closing the quarter with 14 of the last 18 points.
Things were getting a bit close for comfort with the Lightning also scoring the first four points of the fourth quarter to trail by just four, but the Lynx responded thanks to Whitcomb running the point with neither import on the floor.
She found a cutting Sharp for a layup and then Alex Ciabattoni for a three to put Perth back up nine with just under six minutes remaining.
However, it only took a minute and-a-half for Adelaide to have scored seven straight points and make it a two-point ball game. It was soon a one-point margin and Adelaide had the momentum, but Perth had the answers.
It started with another Whitcomb three-pointer before Scherf nailed a jumper and then Mabrey landed the killer blow from beyond the arc in the corner. Tayah Burrows then capped off the 11-point win.
The Lynx will finish off this four-game home stand back at Bendat Basketball Centre against the University of Canberra Capitals on Saturday night.
WNBL ROUND 14
PERTH LYNX 84 (Whitcomb 18, Mabrey 17, Scherf 16)
ADELAIDE LIGHTNING 73 (Smith 24, Talbot 15, Wehrung 13)