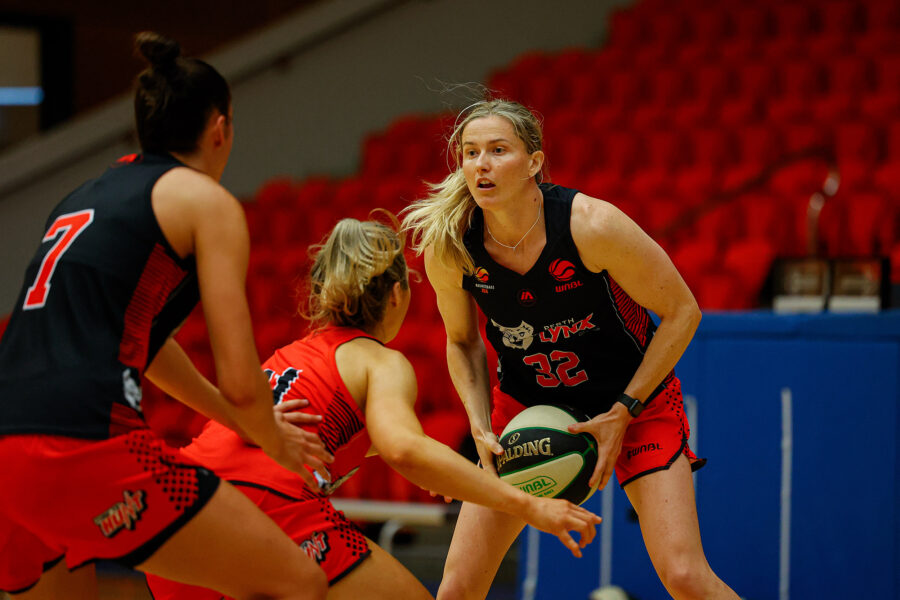 December 25, 2021 | Perth Lynx news
We know you have all been waiting for this one.
The Perth Lynx organisation is excited to announce that former team MVP and WNBA champion Sami Whitcomb will suit up for the team this season.
Whitcomb had signed to play for Perth last season but opted out of joining the North Queensland hub to remain at home for the birth of her son.
Recently finishing up her 2021 WNBA season with the New York Liberty, Whitcomb was initially due to play with French club ESB Villeneuve-d'Ascq, but changes in family circumstance saw the dynamic shooter head home to Perth.
After compiling a career-best season in her first campaign with the New York Liberty, Whitcomb will be coming in hot. She appeared in 30 games, including a career-high 28 starts. Averaging career highs of 11.7 points, 5.0 rebounds and 2.7 assists per game, Sami adds another level of attack to the Perth Lynx roster.
"I am thrilled to be back in Perth playing in this incredible league. I'm VERY excited about the team Ryan has assembled and can't wait to compete with them!"
Head Coach Ryan Petrik said, "Like everyone else, we thought we'd lost her to Europe. So when she calls and tells you she is coming home, it's a pretty quick pivot into making that happen"
"The gravity Sam will provide our offense alongside Marina and Jackie is obviously world class; but it's also her leadership and work ethic that'll provide our youngsters coming through our development pathways that'll be invaluable. We can't wait to see what this team can do together"
General Manager Brent Dawkins said, "To have Sami's signature as our final player on our roster is super exciting. A player of her International standard and another Australian Opal and WNBA player to add to our list provides us with a strong line-up leading into game 1 on January 2 vs Adelaide"
The Perth Lynx final roster for WNBL 2021/22 features Darcee Garbin, Alex Sharp, Ashleigh Isenbarger, Lauren Scherf, Emma Clarke, Alexandra Ciabattoni, Marina Mabrey, Jackie Young, Tayah Burrows and Sami Whitcomb. Including Development Players Mackenzie Clinch Hoycard, Mia Satie, Emma Gandini and Mia Jacobs.
For further information:
Brent Dawkins
General Manager
brent.dawkins@basketballwa.asn.au