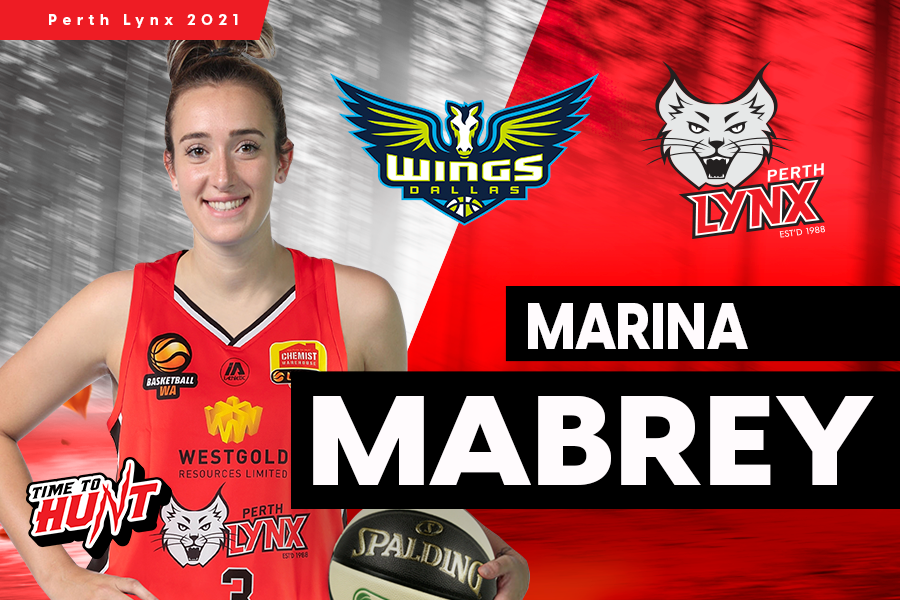 July 1, 2021 | Perth Lynx news
Imports are back in the WNBL, and the Perth Lynx are thrilled to announce the signing of sharpshooting 5'11 guard Marina Mabrey from the Dallas Wings (WNBA). A New Jersey native, Mabrey found success early, winning Gold as a member of the 2014 USA Basketball Under 18 National Team at the FIBA Americas Championship. As a college senior, she won a National Championship with Notre Dame and still holds the title for most three's made in the program's history (274).
Drafted 19th overall in the 2019 WNBA Draft to the Los Angeles Sparks, Mabrey played 31 games but found it challenging to find enough net with limited minutes. Traded to the Dallas Wings in 2020, Mabrey continued to build her game, and in her second and current season, she is averaging 15 pts, 5 rbds and is shooting 48% at the three-point line.
Head Coach Ryan Petrik is pumped to have the guard on the roster. "Marina is an amazingly gifted player, but especially at the offensive end where the split second she walks over the half-court line she becomes a problem for defences to try and solve"
"She not only can shoot it at an elite clip and from extreme range, but she can floor it and get her head on the rim seemingly whenever she wants, which is usually pretty rare for an elite shooter."
"With our style of play and wanting to double down on our pace and space philosophy, adding Marina will no doubt help unlock the rest of our squad and make their jobs that much easier."
Deciding to come to Perth was an easy one for Mabrey, who said, "The Lynx are a high-level professional team in a great location and a competitive league"
"The Lynx coaches spoke with me before the season about their plans for this year, and the way they run their offence and defence fits my game and a place where I can be successful. The club has an excellent reputation and treats the players like family."
Off the court, Mabrey is passionate about the promotion and respect showed towards women athletes. In 2019 she created a t-shirt line called 'This is My Kitchen' as an underlying message in response to the sexist online comments and reactions to posts concerning women's basketball.
The Perth Lynx roster for WNBL 2021/22 now features Darcee Garbin, Alex Sharp, Ashleigh Isenbarger, Lauren Scherf, Emma Clarke, Alexandra Ciabattoni and Marina Mabrey.
1st JULY 2021
END
For more information: 
Brent Dawkins
Perth Lynx General Manager
brent.dawkins@basketballwa.asn.au
Before Marina suits up for us, you can follow her as she takes the floor for the Dallas Wings this WNBA Season.
Full schedule: https://wings.wnba.com/
Download the WNBA app and subscribe to watch
Don't forget to Register Your Interest for our Season 2021/22 Memberships NOW!