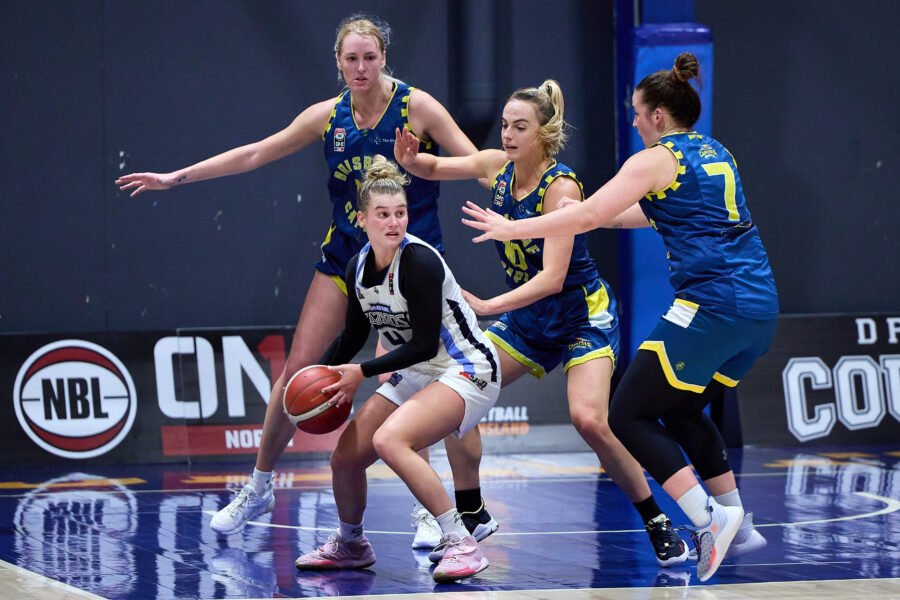 August 15, 2022 | Sydney Flames news
The NBL1 North championship dream is over for Sydney Flames duo Shyla Heal and Tiana Mangakahia after their Northside Wizards went down to Brisbane in Saturday's quarter-final.
At Auchenflower Stadium, 23 points, four rebounds, two steals, one assist and one steal from Heal and 11 points, 11 dimes, three swipes, three boards and one block from Mangakahia weren't enough, as the Wizards lost 81-66 to the Capitals.
It wasn't all doom and gloom for the Flames' NBL1 North contingent though, with Kalani Purcell's Southern Districts Spartans easily accounting for USC Rip City 93-59 at Rowland Cowan Stadium.
Tall Fern Purcell added seven points, 14 rebounds, three blocks, two assists and two steals in the win.
That triumph will pit them against Townsville in Saturday's semi-final, with the victor taking on either Logan or Brisbane in the big dance.
REGISTER YOUR INTEREST FOR FLAMES MEMBERSHIP HERE
In other NBL1 news, South pair Keely Froling (Launceston) and Keira Rowe (Know) both secured crucial final-round wins.
The former posted 25 points, 10 rebounds, four steals and two dimes in the Tornadoes' Tasmania derby triumph against Hobart 76-67 at the Kingborough Sports Centre.
While Rowe's Raiders toughed out tight wins against Ringwood (66-64) and Keilor (64-58) – with the Flames star averaging nine points, 3.5 rebounds, 2.5 assists, two steals and 0.5 blocks across the two contests.
These wins mean Knox finish sixth on the ladder and take on Waverley in Saturday's elimination final, while Launceston travels to Geelong to battle the Supercats.
In NBL1 East action, Vanessa Panousis chalked up 18 points, seven assists, three rebounds and one steal as Sutherland overcame Illawarra 84-71 – to lock up second spot on the ladder and earn a weekend off before taking on either Newcastle or Manly-Warringah in the semi-final.
Finally, in the NBL1 West, Emma Clarke (20 points, 11 rebounds, five assists and one steal) and her Perry Lakes Hawks smashed the Eastern Suns 106-41 to secure eighth spot on the ladder.
This means Clarke and her Hawks will face Cockburn in Saturday's elimination final at the Wally Hagan Stadium.