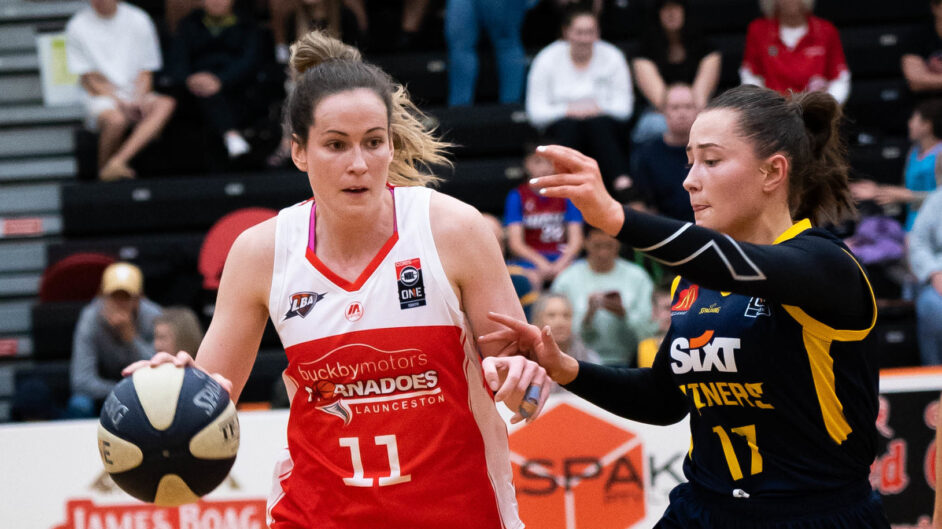 April 24, 2023 | Sydney Flames news
A number of Hoops Capital athletes starred during the weekend's NBL1 Anzac Round, including Flames duo Keely Froling and Kiera Rowe.
In NBL1 South, Rowe starred as Knox triumphed over Launceston 75-66.
The Flames forward tallied nine rebounds, six assists, two boards and two steals.
In the same game, Flames skipper Froling posted a huge 28 points, 14 rebounds and two assists for the Tornadoes in the loss.
Froling backed it up with an 18-point, eight-assist, six-rebound showing, which also included one steal and block – as the Tornadoes smashed Ballarat 96-58, which was capped by an impressive 27-3 final period.
The Raiders also backed it up with a strong 74-59 triumph over Hobart, thanks to 18 points, seven rebounds, three dimes and a steal from Rowe, which saw her claim the Anzac Round Medal for the round three fixture.
Next round, Rowe takes on Casey while Froling battles Melbourne.
View this post on Instagram
View this post on Instagram
In NBL1 East, the Sydney Comets, headlined by Jada Crawshaw, suffered their first loss of the campaign, going down 95-73 to Manly.
In the loss, which was played without star guard Vanessa Panousis, Crawshaw shone with 24 points, seven rebounds, four blocks and two swipes.
The Comets' next opponent is Newcastle on Saturday.
To North Sydney and Emma Donnelly contributed 11 points and four boards as the Bears thumped Hills 96-39.
The 5-2 Bears go toe-to-toe with Canberra in round seven.
REGISTER YOUR WNBL24 MEMBERSHIP INTEREST NOW
Shifting to NBL1 North and Townsville, spearheaded by Indiah Bowyer, had a triple-header over the weekend.
It started with a 100-80 win against Ipswich, where Bowyer had 22 points, two rebounds, two assists, two blocks and one steal.
This was followed by wins against Red City (80-54 where Bowyer tallied 16 points, seven boards, one steal and one block) and Logan (75-68 thanks to 17 points,  eight rebounds, three steals and two assists by the Flames amateur player).
The Flames will look to extend that three-game win streak against Darwin on Saturday.
In one of those match-ups for Bowyer, she was pitted against Flames teammate Lilly Rotunno, who recorded 13 points, three assists, two rebounds and two steals, for Red City.
In round five, Rotunno's Roar lock horns with both Logan (Friday) and Ipswich (Saturday).
At Rowland Cowan Stadium, Maddy Allen sparked her Southern Districts Spartans to a commanding 76-63 victory against Mackay, thanks to a full stat line of 20 points, 12 rebounds, six dimes, two steals and one block.
Allen's squad will look to carry that form into the next round's fixture with Gold Coast.
View this post on Instagram
Out west, Emma Clarke missed Perry Lakes' 80-59 loss to Mandurah due to an illness but is expected to return to the court for the round five fixture with South West.
Moving across to the Kings' contingent and Jaylin Galloway top-scored for Ipswich with 27 points, as the Force downed Townsville 99-94 at JBS Stadium on Friday night.
The 20-year-old also tallied six assists, five blocks, three rebounds and two steals in the Force's fourth-straight victory to open the 2023 season.
These stats also secured Galloway the prestigious Anzac Day Medal for player of the match during the round four clash.
Ipswich will look to extend that streak to five games on Saturday when they travel to the Paul Bancroft Centre on Saturday to play Red City.
Another side to defeat Townsville across the weekend was Shaun Bruce's Logan, who outlasted the Heat 98-70 on Sunday.
In the victory, which moves the Thunder up to third place on the NBL1 North ladder with a 3-1 record, Bruce recorded 11 assists, eight rebounds, three points and two steals.
Next up for the Thunder in round five is a double-header, starting with Red City on Friday and followed by North Gold Coast on Saturday.
The other Kings that will be in action during round five of the NBL1 North competition will be the newly signed Makuach Maluach and his Darwin Salties – who had the bye over the weekend.
Next round though, they play away at both Cairns (Friday) and Townsville (Saturday).
READ MORE: HOOPS CAPITAL EAST HOSTS FIRST ACADEMY CAMPS
Moving to the NBL1 South competition and both Angus Glover and Dejan Vasiljevic produced strong performances for their respective teams.
Glover first put up 19 points, four dimes, four steals and three rebounds as Eltham edged Ringwood 87-77 behind a big fourth quarter (25-16).
The Kings wing then backed it up two days later on Sunday to the tune of 30 points, seven triples and five rebounds, as the Wildcats thumped Bendigo 91-72 – to improve to 4-0 in 2023.
Much like Galloway, Glover also took out the Anzac Day Medal for best on the court during the round three fixture.
Next up for Glover's outfit are showdowns with Sandringham (Saturday) and Keilor (Sunday).
While Vasiljevic marked his final game with Diamond Valley with 22 points, three rebounds, three assists and one steal in the Eagles' 94-78 loss to Frankston.
The Kings sharpshooter will now head overseas to continue his busy off-season.
In NBL1 East, Archie Woodhill's 18 points, four rebounds and three assists guided Sydney to an 88-76 victory over Manly-Warringah.
The Comets next travel to Newcastle on Saturday.
Finally, out west and forward Isaac Gattorna missed Geralton's 92-82 win over Warwick due to sickness.
Gattorna and his Buccs, who are fourth with a 3-2 record, next take on the Eastern Suns on Saturday.
Stay up to date with all the Hoops Capital off-season news here.