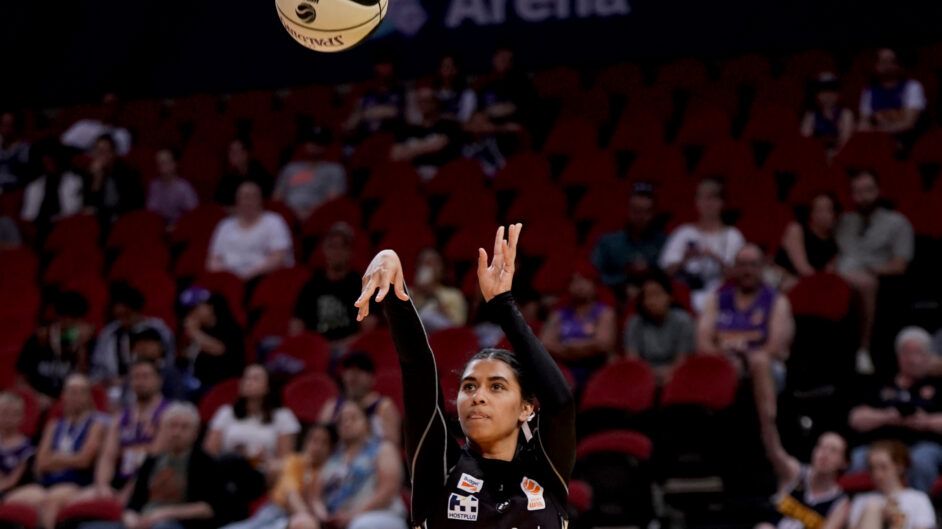 January 11, 2023 | Sydney Flames news
The past 12 months have arguably been the biggest in Indiah Bowyer's career to date.
After helping Logan reach the NBL1 North grand final, Bowyer moved to Sydney for her first WNBL season with the Flames.
And once her maiden season wraps up with the Hoops Capital side, she will return to NBL1 North but this time, in different colours.
CLICK HERE TO GET YOUR FLAMES TICKETS NOW
The 19-year-old recently penned a deal with Townsville – who defeated her Thunder side in the 2022 decider.
"The decision to leave Logan wasn't an easy one," said Bowyer, who scored a season-high 39 points against Sunshine Coast in 2022.
"I've become close with everyone at the association and I appreciate everything they've done for me whilst being in Brisbane.
"I just felt like the move to Townsville was the best decision for my development at this point in my career."
The Australian junior representative is confident she can add another dimension to the powerful Townsville Flames side in 2023.
"What I can bring to Townsville is my versatility to play and guard different positions and to be coached well," she said.
"Being young, I just want to be a sponge and learn everything from James [Rapinett] and older players.
"I want to be more of a scoring threat than I have in past years in the NBL1 as well.
"So I'm grateful James has given me this opportunity to play under him and to have a bigger role."
Coach Rapinett is also looking forward to working with the Flames' amateur player this campaign.
"I am really pumped to be able to bring Indi into our group," Rapinett said.
"I think she will provide us with great floor spacing having shot 40 per cent from behind the arc last season.
"She will also help bolster our perimeter defence and will do a great job guarding other teams scoring wings.
"I am sure Indi will take the opportunity with two hands and have a great season with us."
Cairns product Bowyer echoed her future coaches sentiments, saying her maiden season with the harbour city side will be extremely beneficial to her career moving forward.
"My first season with the Flames will help with this NBL1 season a ton – I have learnt a lot here from Shane [Heal] and the girls," she said.
"Training against such high-calibre players every day has made me step up as a player and has given me more confidence.
"And I'm just excited to be able to show what I've learnt and put everything together."
CALLING ALL COACHES 📣

You're invited to the inner sanctum of the Hoops Capital club. Coaches will be provided access to various assets that will be relevant at all levels of coaching from the Sydney Kings and Sydney Flames.

For more information: https://t.co/xGltp4WzRu pic.twitter.com/p934lXROQL

— Sydney Flames (@TheSydneyFlames) January 5, 2023
Once the Flames' WNBL23 campaign wraps up, Bowyer has outlined her goals for the NBL1 season.
"My personal goals for the season are to just be more confident as I take on a bigger role with a very experienced team," she said.
"And the team goal would be to make it into the NBL1 North finals."
Bowyer's Flames will open the season against her junior club Cairns on Saturday, March 25 at  Townsville StarFM Stadium.
She becomes the fourth Flame to commit to playing in the NBL1 North season in 2023, joining the likes of Tiana Mangakahia, Lilly Rotunno and Maddy Allen.
Next up for the Flames is a round 11 showdown with Adelaide from 7.30pm AEDT on Thursday, January 12 – broadcast on 9Now.